The perfect recipe to warm up on a cold winter day.
Ingredients
Soup Ingredients:
2 lb – butternut squash, diced
10 – garlic cloves
1 – medium onion, julienned
2 – avocado leaves (omit if you cannot find)
2 – ancho chiles, seeded and stems removed
1 teaspoon – urfa chiles (omit if you cannot find)
1 teaspoon – cumin seeds
1 teaspoon – smoked paprika
2 inches – ginger, fresh and peeled
1/2 cup – olive oil
1 cup – milk
4 cups – vegetable or chicken stock
1 tablespoon – chamomile vinegar (sub apple cider vinegar)
1 tablespoon – Worcestershire sauce
Crouton Ingredients:
3 slices – thick brioche
1/4 cup – herb olive oil (sub regular olive oil)
1 teaspoon – salt and pepper
DIRECTIONS
Preheat oven to 400°F (375°F for convection ovens).
Toss all soup ingredients together, minus the milk and stock, add to baking sheet and roast for 30 minutes.
Toss bread cubes with olive oil and seasons, bake for 15 minutes until golden all around.
Blend all roasted vegetables with stock on high until completely smooth. Add to a sauce pot and add in milk, adjust seasoning if necessary.
Serve soup and garnish with croutons, drizzle with olive oil and a few drops of your favorite vinegar.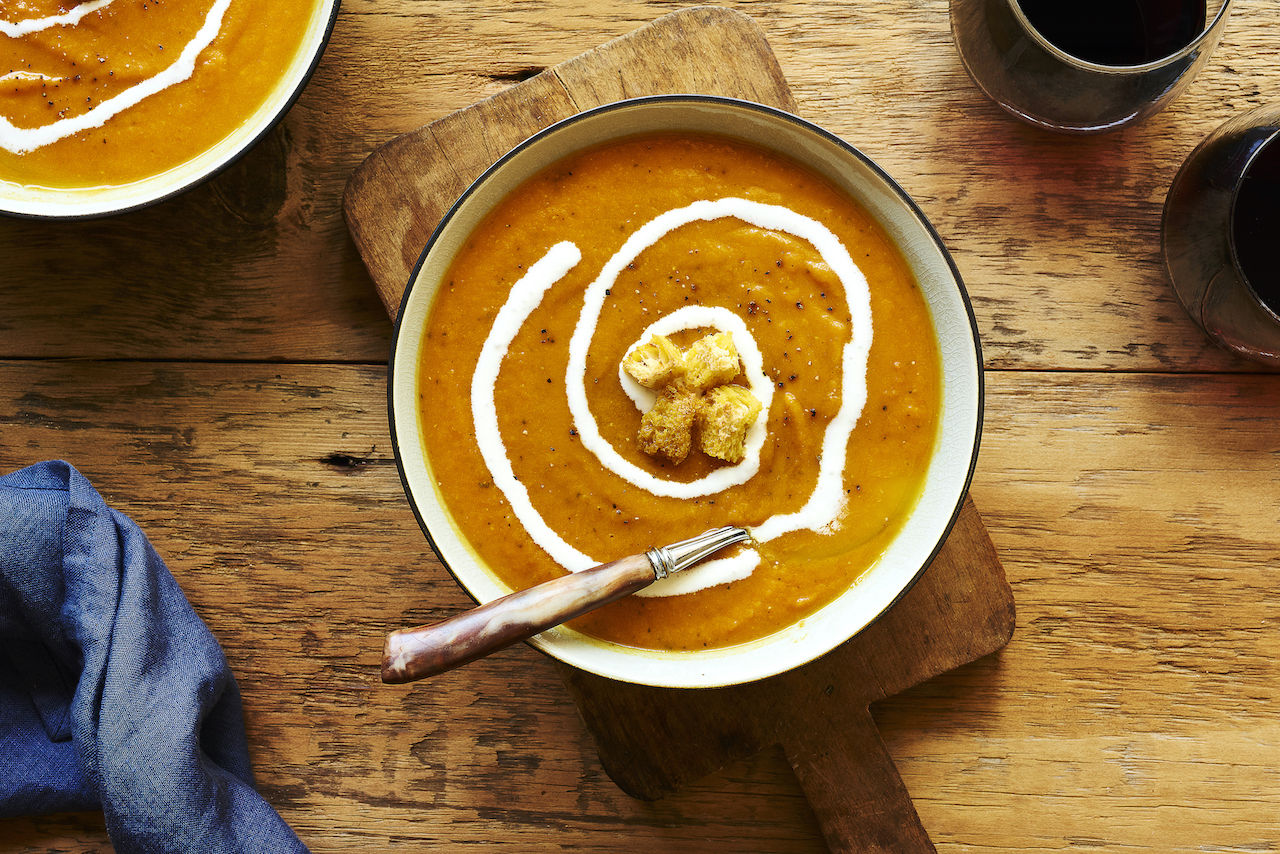 NUTRITION
480 calories; 35 g fat; 8 g saturated fat; 45 mg cholesterol; 7 g protein; 39 g carbohydrates; 5 g fiber; 950 mg sodium; 156 mg calcium. Nutrition figures based on using low-fat white milk and do not include optional ingredients.
Recipe & photo by: Chef Claudette Zepeda