Warm up this winter with the soup of the season
Recipe by: Pro Basketball Player and Registered Dietitian Briana Butler
Ingredients
2 pounds — Acorn Squash, halved
2 teaspoons — Safflower Oil
½ White Onion, sliced
3 cloves — Garlic
2 cups — Organic Chicken Stock
½ tablespoon — Ground Ginger
1 teaspoon — Salt
1 teaspoon — Smoked Paprika
1 teaspoon — Cumin
½ teaspoon — Ground Coriander
½ cup — Reduced Sodium Garbanzo Beans
½ cup 2% Reduced Fat Milk
3 teaspoons — Pumpkin Seeds (Pepitas)
6 sprigs — Fresh Cilantro
1 teaspoon— Crushed Red Pepper
DIRECTIONS
Preheat your oven to 375F.
Cut acorn squash in half and scoop out the seeds. (You may save these for roasting).
Drizzle 1 teaspoon of safflower oil over both halves (save the remaining teaspoon for later).
Place both acorn halves flesh down on a parchment-lined baking sheet. Place in the oven and cook for 1 hour.
In a pot, heat the remaining 1 tsp oil over medium-high heat, about 30 seconds. Add in onion and garlic cloves and saute until the onion is tender. Reduce heat to low and add spices. Sauté for about 1 more minute.
Remove from heat, add broth to deglaze the pan, and set aside. When squash is ready, peel off the skin and add the peeled squash into the pot. Use your spoon to break up the pieces.
Strain and rinse garbanzo beans and add them to the pot. Bring the pot to a boil over high heat. Once boiling, reduce to medium-low heat, cover, and allow to simmer for about 10 minutes.
Use an immersion blender or normal blender to blend contents until smooth. Return soup to the pot, and add in milk. Mix well.
Pour about 1 ½ cups of soup into a bowl, top with pepitas, cilantro, and crushed red pepper, and enjoy!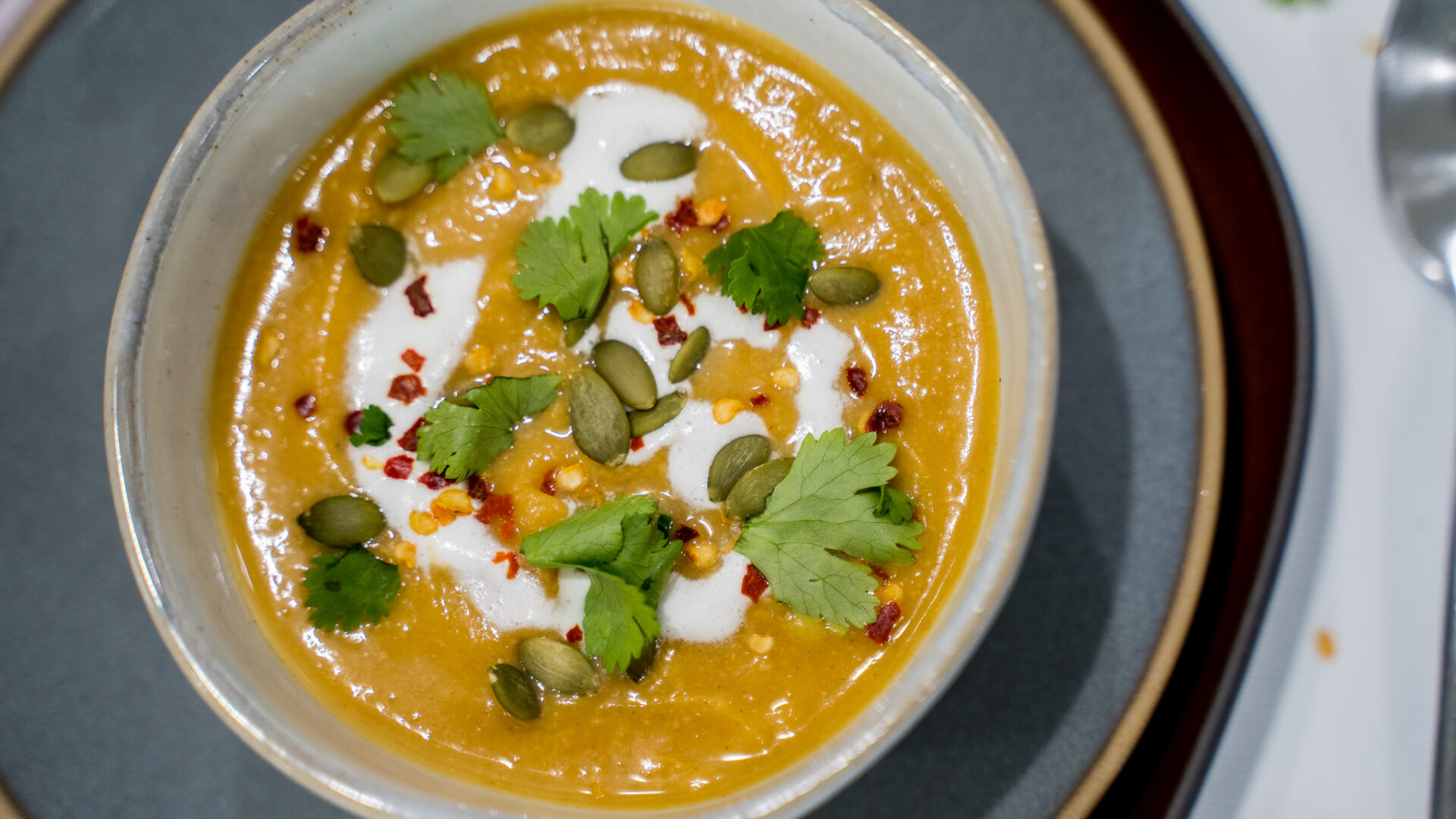 NUTRITION
127 calories; 3.85 g fat; 0.64 g saturated fat; 4.75 g protein; 20 g carbohydrates; 3.44 g fiber; 714 mg sodium; 93 mg calcium; 1.95 mg iron.