The only thing better than homemade churros is homemade tres leches dip to have on the side.
Ingredients
For Churros:
1 cup – water
1 cup – milk
1 – cinnamon stick
4 ounces – butter
1/2 teaspoon – vanilla
2 cups – flour
1/4 teaspoon – sea salt
1 – egg
sugar and ground cinnamon
For Tres Leches Dip:
1/2 cup – milk
1/2 cup – condensed milk
1/2 cup – evaporated milk
2 teaspoons – spiced rum
2 teaspoons – vanilla
DIRECTIONS
In a large saucepan, bring water and cinnamon sticks to a boil. After water and milk have come to a boil, discard cinnamon and remove saucepan from heat. Add butter and vanilla, stir until butter has fully dissolved. Next, add flour and salt all at once, stirring vigorously. Continue stirring until the flour is fully incorporated and it becomes a smooth ball. Stir in egg until fully incorporated.
Heat 4 to 5 inches of oil in large Dutch oven or deep-fat fryer until it registers 325°F on a deep-fat thermometer. While the oil reaches temperature, make the sauce by combining all ingredients in a saucepan. Cook sauce down to half on medium heat, stirring constantly for about 7 minutes.
Transfer some of the dough into a piping bag with a closed star tip. Holding piping bag a few inches above oil (taking care not to get too close to oil to avoid getting burned), pipe out strips of dough, cutting off 6 inch lengths with a knife or scissors. Cook as many as will fit comfortably at once, turning as they brown, about 5 minutes.
Drain on paper towels for 30 seconds and then roll in cinnamon sugar mixture. Serve with tres leches dip and enjoy immediately.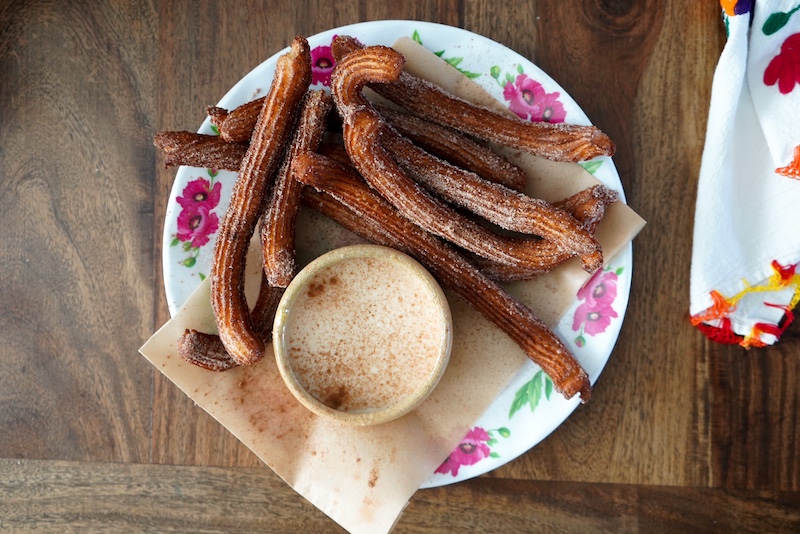 NUTRITION
130 calories; 6g fat; 4g saturated fat; 25mg cholesterol; 3g protein; 15g carbohydrates; 0g fiber; 95mg sodium; 66mg calcium. Nutrition figures based on using low-fat white milk and do not include optional ingredients.
Recipe & photo by: Bricia Lopez