Egg, Sausage and Cheddar Breakfast Bowl
Breakfast
Ingredients
2 – eggs, beaten
2 tablespoons – low-fat milk
2 tablespoons – fully cooked breakfast sausage crumbles or 1 fully cooked breakfast sausage link or patty, chopped
1 tablespoon – finely shredded Cheddar cheese
Pair each serving with:
8-ounce glass of milk
DIRECTIONS
Mix beaten eggs and 2 tablespoons milk in 2-cup cereal bowl. Add sausage. Microwave on high for 45 seconds and then push cooked edges toward center.
Microwave until the egg is almost set, about 45 to 60 seconds longer. Top with cheese. Serve immediately with remaining 8-ounce glass of milk.
Recipe courtesy of Incredibleegg.org.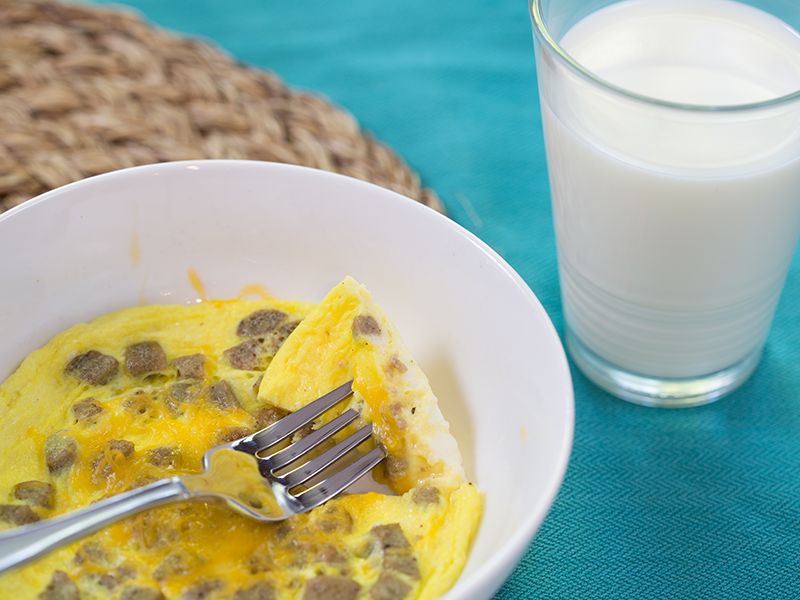 NUTRITION
310 calories; 16 g fat; 6 g saturated fat; 395 mg cholesterol; 26 g protein; 15 g carbohydrates; 0 g fiber; 420 mg sodium; 446 mg calcium. Nutrition figures based on using low-fat milk in eggs, and include an 8-ounce glass of fat-free milk.