Ingredients
6 – eggs
1 1/2 cups – light or low-fat eggnog
1/2 cup – low-fat or fat-free milk
3 tablespoons – brown sugar
1 1/2 teaspoons – ground nutmeg
1 teaspoon – rum extract (optional)
12 cups (about 22 slices) – cinnamon swirl bread, cubed
3/4 cup – golden raisins
Maple syrup
DIRECTIONS
Whisk eggs, eggnog, milk, brown sugar, nutmeg, and extract together in a large bowl. Add the bread cubes and raisins and toss gently to coat. Let stand for 10 minutes to absorb liquid.
Coat a 10-inch non-stick Bundt pan with non-stick spray. Add bread cubes and pour any excess eggnog mixture over the bread. Cover the dish with plastic wrap and chill for at least 4 hours or overnight.
Preheat oven to 325°F. Bake the casserole, uncovered, for 45 minutes or until center is set but not dry. Let stand 5 minutes then invert onto a serving platter. Serve with maple syrup.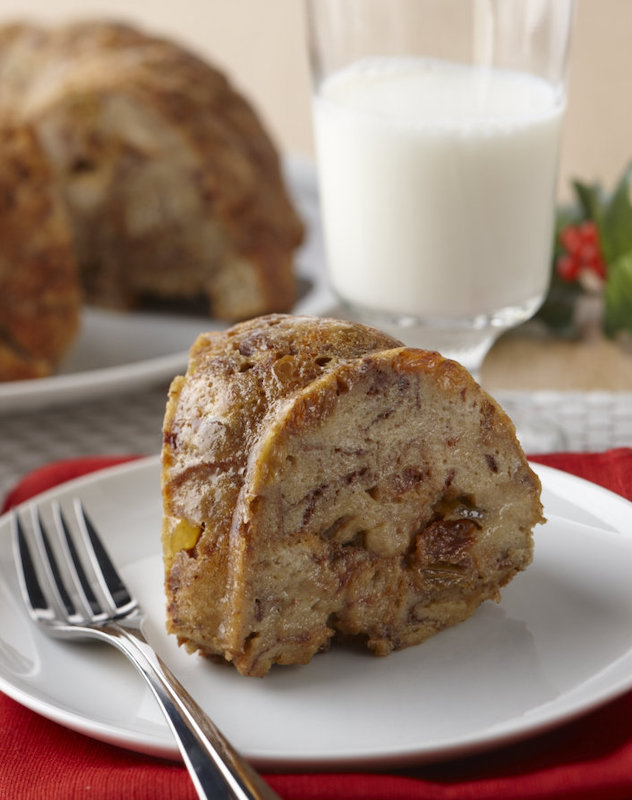 NUTRITION
310 calories; 7 g fat; 1 g saturated fat; 130 mg cholesterol; 12 g protein; 52 g carbohydrates; 3 fiber; 300 mg sodium; 40 mg calcium. Nutrition figures based on using fat-free milk.