Ingredients
1 – ripe avocado, peeled, pitted, coarsely chopped
1 15-ounce can – chickpeas, drained, rinsed
2 tablespoons – lemon juice
1/2 teaspoon – ground cumin
1/4 teaspoon – garlic powder
Tabasco sauce to taste (optional)
1/4 cup – diced red bell pepper
1/4 cup – sliced scallions
8 slices – whole grain bread, toasted
16 slices – thinly sliced ripe tomato (about 3 small tomatoes)
24 slices – thinly sliced cucumber (about 1/2 an English cucumber)
8 tablespoons – fat-free plain Greek yogurt
Pair each serving with:
8-ounce glass of milk
DIRECTIONS
In a medium bowl, mash the avocado and chickpeas together with the lemon juice, cumin, garlic powder, and Tabasco (optional) using a fork (or pulse in a food processor to coarsely mash).
Fold in the bell pepper and scallions, then divide among toasted bread. Top with tomato and cucumber slices and a tablespoon of yogurt. Serve with 8-ounce glass of milk.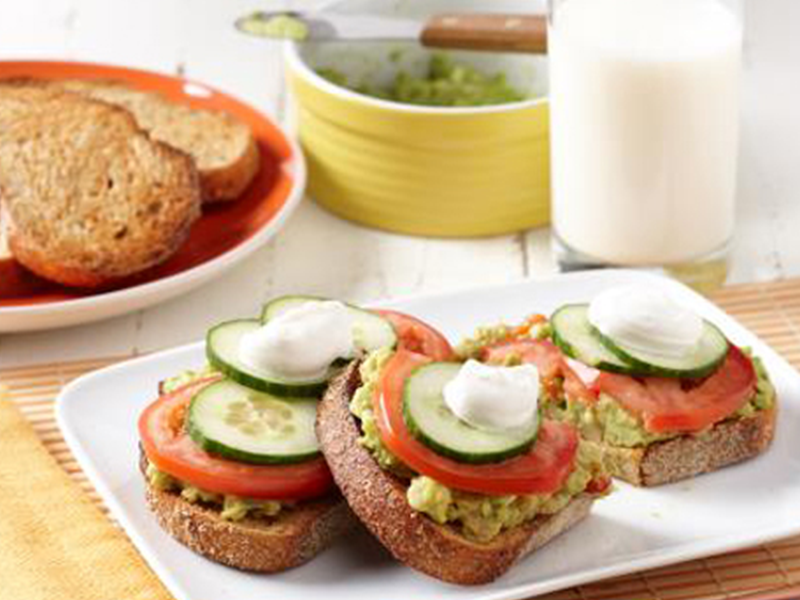 NUTRITION
430 calories; 12 g fat; 2 g saturated fat; 5 mg cholesterol; 25 g protein; 59 g carbohydrates; 13 g fiber; 460 mg sodium; 440 mg calcium. Nutrition figures based on using fat-free milk, and include an 8-ounce glass of milk.