This diner favorite is about to become your new favorite homemade version of hash browns. Diced potatoes and turkey bacon mix with garlic and herbs for a delectable savory side at breakfast.
Ingredients
8 – small red potatoes, skin-on and diced (about 3 cups)
1 – red bell pepper, diced
3 tablespoons – unsalted butter
3 teaspoons – minced garlic
1 teaspoon – fresh thyme, finely chopped, plus more for topping if needed
1 teaspoon – fresh oregano, finely chopped, plus more for topping if needed
2 tablespoons – all-purpose flour
2/3 cup – milk
1/4 teaspoon – salt
1/4 teaspoon – pepper
2 slices – low-sodium turkey bacon, cooked near crispy
1/4 cup – finely grated reduced-fat sharp cheddar cheese
Pair each serving with:
8-ounce glass of milk
DIRECTIONS
Add potatoes, bell peppers, butter, garlic, thyme and oregano to a large skillet. Stir over medium heat until butter is melted and potatoes are fork-tender.
Sprinkle flour over potato mixture and stir to coat. Gradually stir in 2/3 cup milk until a sauce forms. Season with salt and pepper to taste and stir in slices of turkey bacon. Sprinkle with cheddar cheese and cover, allowing to melt for 1-2 minutes. Uncover and top with additional herbs, if desired, before serving.
Pair each serving with an 8-ounce glass of milk and serve. Enjoy!
Recipe and photo by Tiffany Edwards of Creme de la Crumb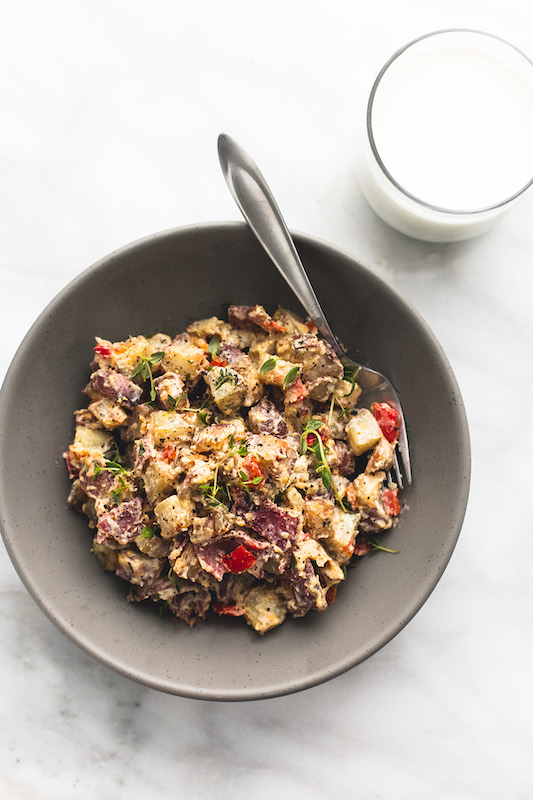 NUTRITION
320 calories; 11 g fat; 6 g saturated fat; 45 mg cholesterol; 17 g protein; 38 g carbohydrates; 3 g fiber; 440 mg sodium; 434 mg calcium. Nutrition figures based on using fat-free milk and include an 8-ounce glass of milk.