Dress up a classic green bean casserole and create a new Thanksgiving tradition when you reimagine this dinner staple. Our version mixes fresh green beans, cremini mushrooms, shallots and garlic to create a new flavor profile everyone will love.
Ingredients
16 ounces – French green beans, trimmed and washed
2 tablespoons – unsalted butter
1 tablespoon – olive oil, plus more to drizzle if needed
3 – shallots, peeled and sliced (about 1/2 cup)
1/2 cup – onion, minced
2 teaspoons – garlic, minced
1 teaspoon – dried thyme
1/2 cup – cremini mushrooms, minced
3 tablespoons – all-purpose flour
1 cup – fat-free milk
1/2 cup – organic vegetable broth
1/2 teaspoon – lemon juice
1/4 teaspoon – pepper
1/2 teaspoon – salt, plus more to taste if needed
non-stick cooking spray
2 tablespoons – shredded Parmesan cheese
DIRECTIONS
Heat a 1/4 full pot of water over medium heat. Add green beans and cover with a lid. Cook for about 3 minutes, remove from heat and drain.
Heat a stainless steel skillet over medium-high heat. Add butter, olive oil and 1/2 the shallots, stirring to cook evenly. Cook for 2-3 minutes or until browned and crispy. Remove with a slotted spoon, add a drizzle more olive oil, if needed, and cook remaining shallots. Remove the cooked shallots.
Turn heat to medium and add onions and garlic. Cook until tender, about 2 minutes. Add thyme and mushrooms to the mixture and cook for another 2 minutes. Leave in skillet.
While whisking, add flour to the skillet with the onion, garlic and mushroom mixture. Stir and continue whisking for 30 seconds to a minute to cook out the flour taste. Add 1 cup milk and broth and cook until simmering. Thicken for about 2 minutes. Add lemon juice, plus salt and pepper for seasoning and remove from heat.
In an 8×9″ pan sprayed with non-stick spray, add the green beans and cream mixture. Sprinkle with parmesan cheese and top with cooked shallots. Bake at 350°F for 30 minutes. Keep warm until ready to serve.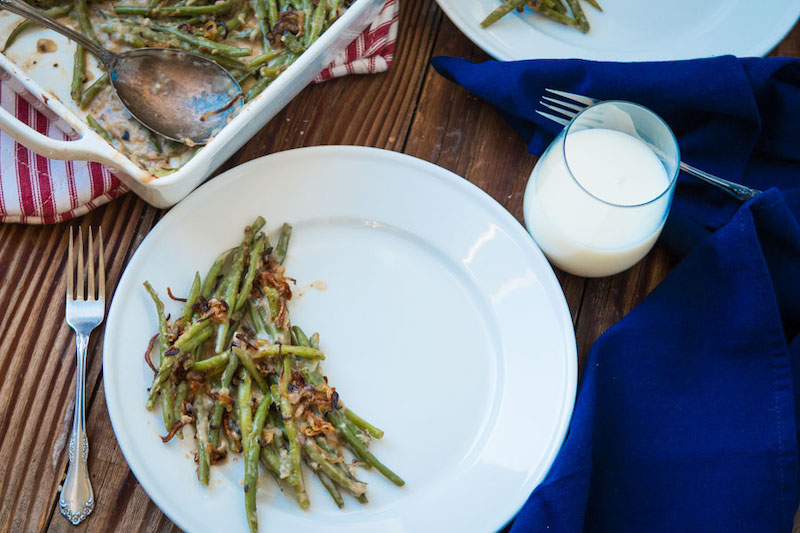 NUTRITION
100 calories; 5 g fat; 2.5 g saturated fat; 10 mg cholesterol; 4 g protein; 10 g carbohydrates;  2 g fiber; 220 mg sodium; 92 mg calcium. Nutrition figures based on using fat-free milk.