When cooking with milk, serve up this Spanish fish soup for your family. This fish soup recipe adds milk for flavor and texture.
Ingredients
Aji de Leche:
24 ounces – whole milk
4 – jalapeño peppers, chopped and seeded
6 – scallions, chopped
2 cloves – garlic, chopped
2 ounces – cilantro, chopped
2 teaspoons – salt
1 teaspoon – sugar
Fish Soup:
2 tablespoons – olive oil
6 – scallions, chopped
1 – onion chopped
4 ounces – celery, chopped
2 cloves – garlic, minced
2 tablespoons – all-purpose flour
16 ounces – clam juice
2 cups – water
1 1/2 pounds – potato, cubed
2 ears – corn, quartered
1 – bay leaf
2 pounds – local seafood
1-1 1/2 cups – aji de leche
salt and lime juice to taste
DIRECTIONS
For the Aji de Leche
Combine all of the ingredients in a blender or food processor until they have turned into a puree. With a wooden spoon, force the sauce through a sieve into a bowl, pressing against the solids to extract as much of the liquid as possible. Store in an airtight jar in the refrigerator.
For the Fish Soup
In a large saucepan, heat olive oil over medium-high heat. Add scallions, onions, celery, and garlic; cook until tender, 2 to 3 minutes. Add flour; stir to coat. Add clam juice and 2 cups water, whisking until smooth. Add potatoes, corn and bay leaf.
Bring to a boil; reduce to a simmer. Cook until potatoes are tender when pierced with the tip of a paring knife, about 10 minutes. Add fish and seafood; cover, and cook until fish easily flakes, about 8 minutes.
Pour in aji de leche; cook until heated through, 1 to 2 minutes. Remove and discard bay leaf. Season with salt and lime juice.
Embrace the richness of cooking with milk with more recipes from Chef Giorgio Rapicavoli at http://milklife.com/tradition.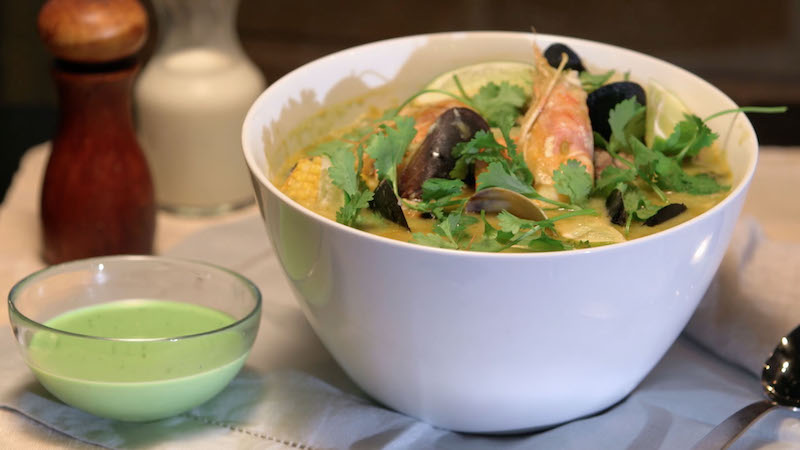 NUTRITION
330 calories; 8 g fat; 2 g saturated fat; 90 mg cholesterol; 27 g protein; 38 g carbohydrates; 5 g fiber; 1000 mg sodium; 140 mg calcium. Nutrition figures based on using whole milk.