Ingredients
1 ounce – deli ham, thinly sliced
1 – wheat English muffin, split and toasted
1 – large egg, hardboiled
1 tablespoon – shredded Mozzarella or Italian cheese blend
tomatoes, sliced (optional)
Dijon-mayonnaise spread (optional)
Pair each serving with:
8-ounce glass of milk
DIRECTIONS
Arrange the ham slice onto the English muffin. Top with hardboiled egg slices; season with salt and pepper, if desired. Sprinkle with cheese.
Microwave on high for 30 seconds until warm and the cheese melts. Cover with muffin top. Serve with tomato and spread, if desired, and with 8-ounce glass of milk.
Recipe courtesy of Incredibleegg.org.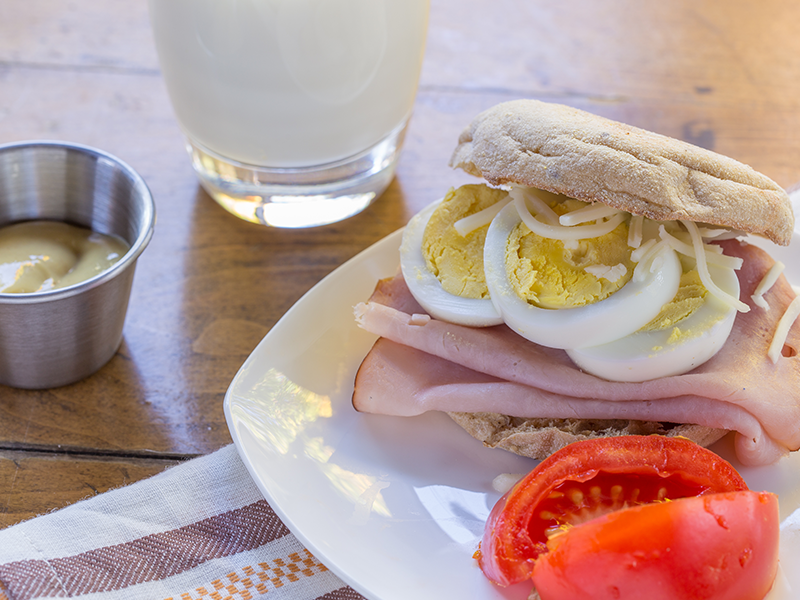 NUTRITION
340 calories; 9 g fat; 3 g saturated fat; 205 mg cholesterol; 26 g protein; 40 g carbohydrates; 4 g fiber; 770 mg sodium; 554 mg calcium. Nutrition figures include an 8-ounce glass of milk.