Ingredients
1 cup – all-purpose flour
1/4 cup – whole wheat flour
1 teaspoon – baking powder
1/2 teaspoon – baking soda
2 – ripe bananas, mashed
1/2 cup – peanut butter (creamy or chunky)
1/4 cup – sugar
1/4 cup – brown sugar
1/4 cup – vegetable or canola oil
1 teaspoon – vanilla extract
1 – egg
1 cup – semisweet chocolate morsels
Optional Streusel Topping:
1/2 cup – all-purpose flour
1/3 cup – crunchy peanut butter
2 tablespoons – granulated sugar
2 tablespoons – brown sugar
2 tablespoons – melted butter
DIRECTIONS
Preheat oven to 350°F. Coat two mini muffin pans with non-stick spray.
In a bowl, whisk together both flours, baking powder, and baking soda; set aside. In a second bowl, combine bananas, peanut butter, both sugars, oil, vanilla, and egg. Whisk wet ingredients into the dry ingredients until moist (do not overmix; a few lumps are okay).
Gently fold in 3/4 cup chocolate morsels. Fill each well in the prepared muffin tins 2/3 full with batter. Top with a few of the remaining chocolate morsels (or some of the streusel, see below).
Bake for 10 to 15 minutes, or until a toothpick inserted in the center comes out clean. Remove muffins from the oven and let cool for 10 minutes before removing from the pan. Serve warm or room temperature.
To make the streusel, combine all ingredients in a small bowl until sandy. Crumble some of the streusel on each muffin top before baking.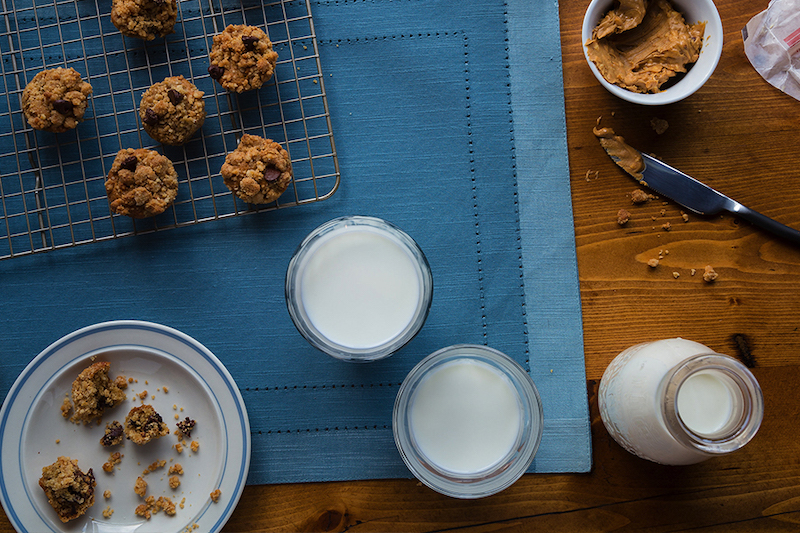 NUTRITION
300 calories; 16 g fat; 5 g saturated fat; 20 mg cholesterol; 6 g protein; 37 g carbohydrates; 3 g fiber; 150 mg sodium; 20 mg calcium.