Ingredients
1 tablespoon – unsalted butter for greasing pan
2 tablespoons – granulated sugar for dusting pan
1/2 cup – granulated sugar or coconut sugar
seeds of half a vanilla bean
3 – large eggs
2/3 cups – all-purpose flour
1/4 cup – almond flour (aka "almond meal")
1 teaspoon – ground mahleb (or substitute 1 teaspoon freshly grated nutmeg)
1/2 teaspoon – sea salt
1 cup – whole milk
1 teaspoon – orange blossom water or to taste (they vary in strength)
2 cups – plums, halved and pitted (about 15 plums)
1/2 teaspoon chunky raw sugar (optional)
powdered sugar, for dusting (optional)
Pair each serving with:
8-ounce glass of milk
DIRECTIONS
Heat your oven to 350°F (180°C), and grease a 10″ pan or skillet (cast iron works great) with butter. Dust with 2 tablespoons sugar, shaking the sugar around the pan so it sticks everywhere. You want the entire pan coated with butter and a fine dusting of sugar.
In a bowl combine the 1/2 cup sugar, vanilla bean seeds and egg, and beat with a whisk until thoroughly combined. Add the flour, mahleb, and sea salt and whisk gently to combine until no dry bits remain. Gently whisk in the milk and orange blossom water and stir until homogenous and combined.
Pour the mixture into the prepared pan, arrange fruit on top, and sprinkle with 1/2 teaspoon chunky raw sugar (optional). Bake for 30-45 minutes until brown and just set. Remove from oven, cool for about 5-10 minutes. Dust lightly with powdered sugar if desired.
Serve warm and fresh (it's best right out of the oven!) and pair with a glass of real milk.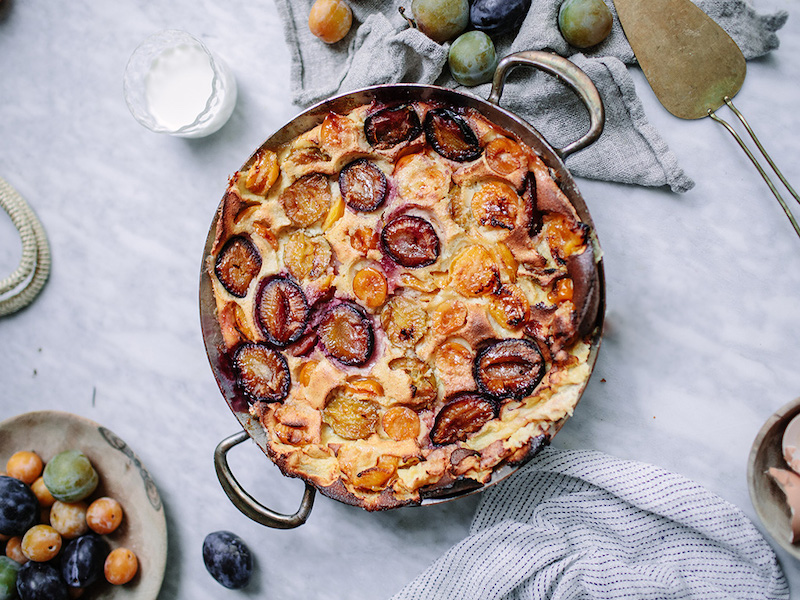 NUTRITION
340 calories; 9 g fat; 4 g saturated fat; 85 mg cholesterol; 14 g protein; 52 g carbohydrates; 2 g fiber; 300 mg sodium; 366 mg calcium. Nutrition figures include an 8-ounce glass of low-fat milk.