These delicious oatmeal and raisin protein muffins with a maple glaze are a kid-friendly recipe and the perfect make-ahead breakfast for busy mornings. When you want to add more protein, pair each muffin with an 8-ounce glass of milk to serve up 13 grams of protein for breakfast.
Ingredients
Muffins:
1 cup – rolled oats
1 cup – fat-free milk
1 tablespoon – lemon juice
3/4 cup – white whole wheat flour
3/4 teaspoon – baking soda
1/2 teaspoon – baking powder
1/2 teaspoon – ground cinnamon
1/4 teaspoon – salt
2 – eggs, lightly beaten
1/3 cup – brown sugar, packed
6 tablespoons – melted butter
1/3 cup – raisins
Glaze:
1/3 cup – powdered sugar
1 tablespoon – pure maple syrup
2 teaspoons – melted butter
1 tablespoon – fat-free milk
Pair each serving with:
8-ounce glass of milk
DIRECTIONS
In a small bowl, combine the oats, 1 cup milk, and lemon juice; let stand for 30 minutes.  In a large bowl, stir together the flour, baking soda, baking powder, cinnamon, and salt.
Preheat the oven to 400°F. Line a muffin tin with paper liners.
Whisk the eggs, brown sugar, and melted butter into the oat mixture. Add the oat mixture to the flour mixture, stirring just until no flour remains (batter will be lumpy). Fold in the raisins.
Spoon the batter into the prepared muffin tin, filling the wells about 2/3 full. Bake until a toothpick inserted in the center comes out clean, 10 to 15 minutes. Let cool in the pan for 10 minutes.
While the muffins bake, whisk the powdered sugar, maple syrup, and melted butter together in a small bowl. Add enough milk to make a thick glaze (about 1 tablespoon). Top each warm muffin with a teaspoon of the maple glaze before serving. Serve with an 8-ounce glass of milk.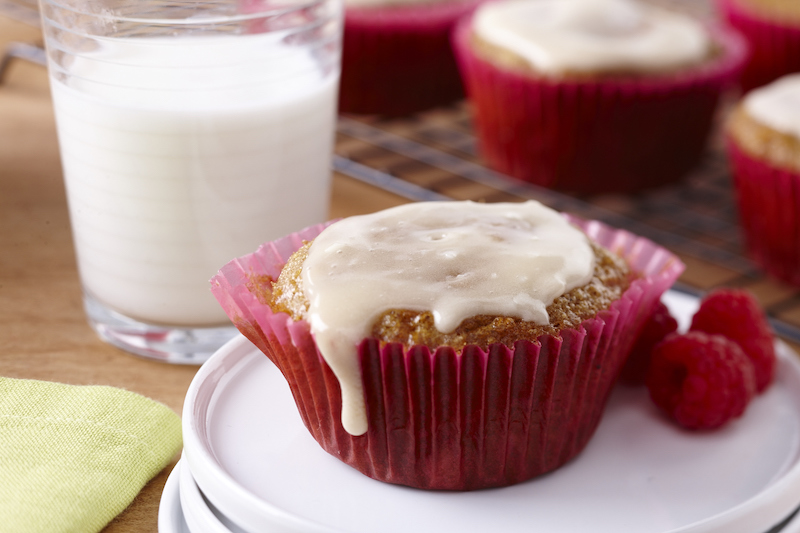 NUTRITION
290 calories; 9 g fat; 4.5 g saturated fat; 55 mg cholesterol; 13 g protein; 41 g carbohydrates; 2 g fiber; 270 mg sodium; 366 mg calcium. Nutrition figures based on using fat-free milk, and include an 8-ounce glass of milk.