For a perfect way to craft a dreamy summer-inspired moon milk recipe, simply pair peaches with creamy dairy milk and then add honey. Finish with a dash of cinnamon and almond extract and you have peach pie in a glass!
Ingredients
3 cups – real milk
3 – peaches, peeled and diced
1 tablespoon – honey or brown sugar
1/4 teaspoon – almond extract
1/4 teaspoon – ground cinnamon
DIRECTIONS
In a large saucepan, combine milk and peaches and bring to a boil. Reduce to a simmer, whisk in honey (or brown sugar), almond extract, and cinnamon. Simmer 1-2 minutes longer.
Transfer to a blender, blend until smooth. Since the mixture will be hot, avoid filling the blender more than half way and be sure to vent the blender by keeping the middle part of the lid open and covering with a towel while holding the lid down by hand. This is for safety reasons, as otherwise hot liquid could force the lid off.
Blend until smooth on a slow speed, and allow to cool 1-2 minutes. Pour into three glasses and enjoy!
Recipe & photo by Tiffany Azure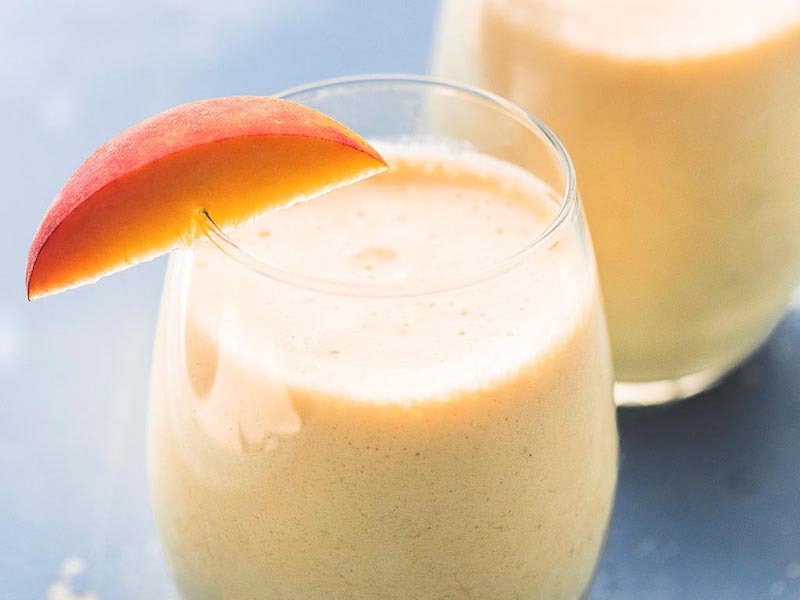 NUTRITION
180 calories; 3 g fat; 1.5 g saturated fat; 10 mg cholesterol; 9 g protein; 32 g carbohydrates; 2 g fiber; 110 mg sodium; 312 mg calcium. Nutrition figures based on using low-fat milk and honey.