Ingredients
1 teaspoon – Italian seasoning
1/2 teaspoon – garlic powder
1/4 teaspoon – red pepper flakes
2 – 8" whole wheat tortillas
non-stick cooking spray
1 ounce – fresh lean ground pork
2 – large eggs
1/4 cup – low-fat cheddar cheese, grated
2 tablespoons – milk
1 teaspoon – fresh chives, chopped
1/4 cup – mushrooms, sliced
1/4 cup – yellow onion, diced
1/4 cup – red bell pepper, diced
Pair each serving with:
8-ounce glass of milk
DIRECTIONS
Lightly coat a skillet with non-stick cooking spray and heat to medium heat. In the skillet, sprinkle Italian seasoning, garlic powder and red pepper flakes over the lean ground pork and cook until browned, then remove from the skillet and set aside.
In a medium bowl, mix together cooked pork, eggs, cheese, 2 tablespoons milk, chives, mushrooms, onion and pepper. In the heated skillet, scramble the egg mixture.
Coat a second skillet with a small amount of non-stick cooking spray. In the second skillet, heat one tortilla on medium heat until slightly golden. Add the cooked scrambled eggs on top, and let the tortilla continue to brown. Top with the second tortilla and flip to brown the other side. Cut into fourths and serve with an 8-ounce glass of milk.
Recipe and photo by Chrissy Taylor of The Taylor House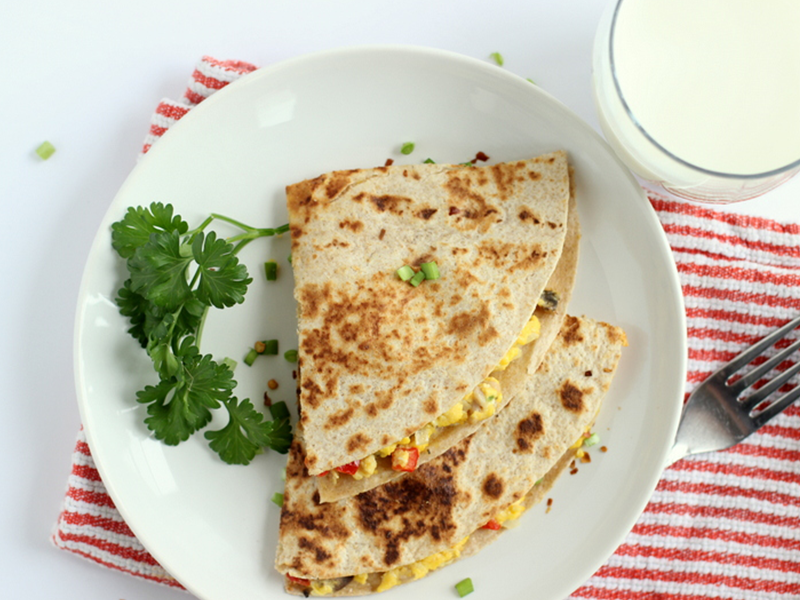 NUTRITION
340 calories; 11 g fat; 4.5 g saturated fat; 200 mg cholesterol; 26 g protein; 35 g carbohydrates; 5 g fiber; 520 mg sodium; 504 mg calcium. Nutrition figures based on using fat-free milk, and include an 8-ounce glass of milk.