Ingredients
Poppy Seed Dressing:
1/4 cup – fat-free milk
1/4 cup – light mayonnaise
1 tablespoon – honey
2 teaspoons – apple cider vinegar
1 tablespoon – poppy seeds
Power Bowl:
8 cups – baby greens
4 – large eggs, hard-boiled
1 cup – red cabbage, shredded
1 – large (3 1/4") apple, diced
1 – avocado, diced
1 cup – cooked quinoa
1/2 cup – nuts (almonds, pistachios, pecans, walnuts–your choice)
Pair each serving with:
8-ounce glass of milk
DIRECTIONS
Poppy Seed Dressing Directions:
Whisk together 1/4 cup milk and mayonnaise until smooth. Stir in honey, apple cider vinegar and poppy seeds.
Power Bowl Directions:
Layer baby greens (like spinach) on the bottom of a serving bowl. Add remaining toppings and dressing and serve.
Note: Dressing will keep up to 2 days in the refrigerator but may separate slightly so stir well before serving. Pair with an 8-ounce glass of milk.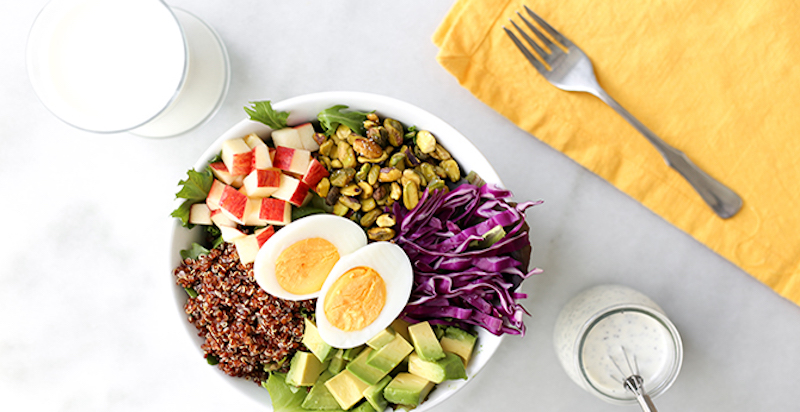 NUTRITION
470 calories; 22 g fat; 3.5 g saturated fat; 170 mg cholesterol; 24 g protein; 51 g carbohydrates; 10 g fiber; 390 mg sodium; 500 mg calcium. Nutrition figures based on using fat-free milk, and include an 8-ounce glass of milk.