This tasty twist on eggs adds a Southwestern flair at breakfast — with avocados and turkey sausage, piled high on a tortilla. Our huevos rancheros recipe adds 30 grams of protein at breakfast when paired with an 8-ounce glass of milk.
Ingredients
1 – large egg
2 tablespoons – milk
1 – 6" corn tortilla
2 tablespoons – reduced-fat pepper jack cheese, shredded, divided
1 teaspoon – olive oil
1/4 – avocado, sliced
1 ounce – cooked turkey sausage, crumbled
1 tablespoon – chunky garden salsa
2 tablespoons – non-fat plain Greek yogurt
1 tablespoon – green onion, sliced
dash – pepper
salt (optional)
hot sauce (optional)
Pair each serving with:
8-ounce glass of milk
DIRECTIONS
In a bowl, whisk together egg and 2 tablespoons milk. Season with salt (optional) and pepper to taste; set aside.
Heat a non-stick skillet over medium heat. Add tortilla to pan and heat for 10 seconds. Flip tortilla and heat on other side for 10 seconds and remove to a plate.
Heat olive oil in pan. Add egg mixture and cheese. Cook eggs over medium low heat, stirring gently with a spatula until cooked through, but still creamy. Remove from heat.
Top heated tortilla with turkey sausage, avocado, scrambled egg, salsa, Greek yogurt, green onion and optional dollop of hot sauce. Serve with an 8-ounce glass of milk.
Recipe and photo by Emily Caruso of Jelly Toast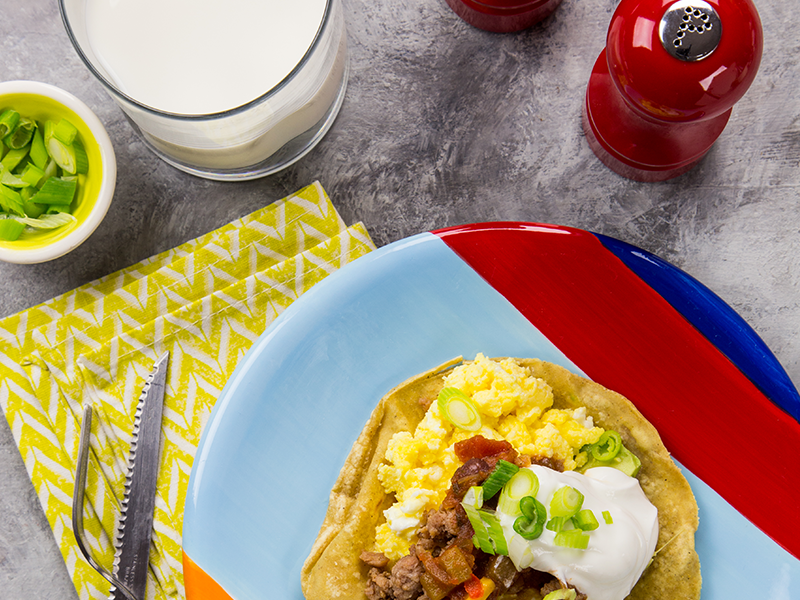 NUTRITION
450 calories; 22 g fat; 6 g saturated fat; 220 mg cholesterol; 30 g protein; 34 g carbohydrates; 5 g fiber; 600 mg sodium; 658 mg calcium. Nutrition figures based on using fat-free milk, and include an 8-ounce glass of milk.