Authentic Mexican queso fundido con chorizo is a great appetizer option and one of the most popular recipes on cinco de mayo. The magic happens when cheese is placed in a clay skillet and melted on top of the grill to be served along with warm, fresh tortillas to make your own taco. You can find it at all Mexican taquerías, the favorites are queso with chorizo or mushrooms.
Ingredients
2 tablespoons – olive oil
4 ounces – chorizo
1/4 cup – red onion, minced
1 – jalapeño pepper (optional)
1 – garlic clove, minced
8 ounces – mozzarella cheese, shredded
2 tablespoons – whole milk
8 – small corn tortillas
DIRECTIONS
In a small pan over medium heat, add olive oil and chorizo and cook for 2-3 minutes. Pour the chorizo through a strainer and put aside, keep the oil in the pan.
In the same pan, add onion and cook for 2-3 minutes until translucent. Add jalapeño and garlic and cook for 1-2 minutes more. Add milk and cheese, continuously stirring until cheese melts.
Transfer to a serving bowl and top with the crumbled chorizo.
Enjoy with corn or flour tortillas and an 8-ounce glass of milk.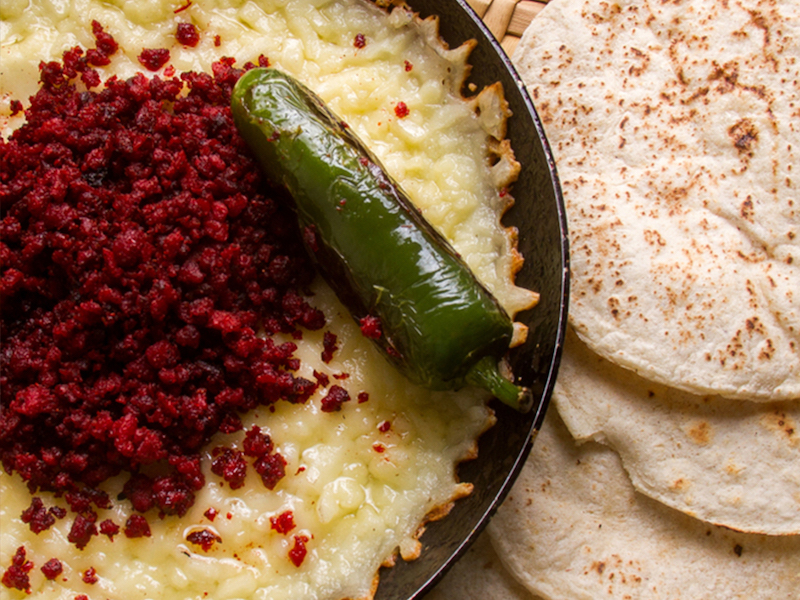 NUTRITION
560 calories; 31 g fat; 13 g saturated fat; 70 mg cholesterol; 32 g protein; 40 g carbohydrates; 3 g fiber; 820 mg sodium; 850 mg calcium. Nutrition figures include an 8-ounce glass of low-fat milk.