Turn the colors of the rainbow — red strawberries, blueberries and orange mango — into a magical treat for breakfast and beyond. This rainbow unicorn smoothie recipe made with real milk is not only tasty, it's a simple and wholesome way to bring a smile to anyone's day.
Ingredients
1 1/2 cups – low-fat or fat-free milk
1/2 cup – low-fat vanilla yogurt
2 cups – frozen strawberries (about 10 large)
1 cup – frozen blueberries
1 cup – frozen mango chunks
Optional Toppings:
6 tablespoons – whipped cream
4 teaspoons – unicorn sprinkles
decorative unicorn horn candles, wick trimmed
DIRECTIONS
Add milk, yogurt and fruit to blender and blend until smooth, adding additional milk to thin if needed. Divide smoothie into 4 glasses and top each with 3 tablespoons whipped cream, 2 teaspoons sprinkles and Unicorn horn candle. Drink in the morning and have a magical rest of your day!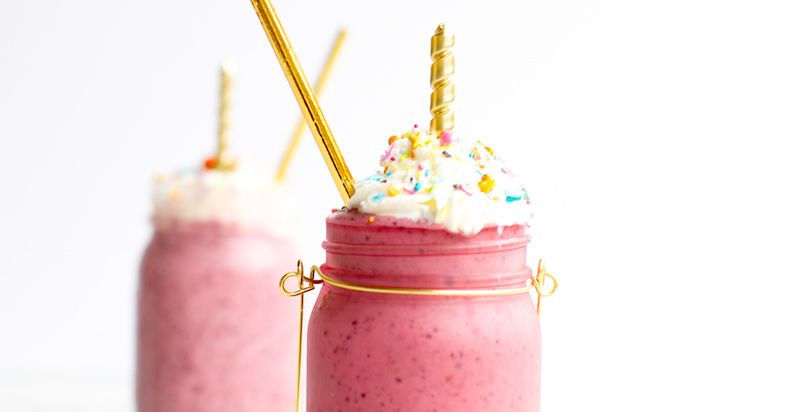 NUTRITION
120 calories; 1g fat; 0g saturated fat; 5 mg cholesterol; 5 g protein; 25 g carbohydrates; 3 g fiber; 60 mg sodium;  175 mg calcium. Nutrition figures based on using fat-free milk.