Ricotta Cheese & Asparagus Scrambled Eggs on Toast
Breakfast
Ingredients
2 – large eggs
2 tablespoons – part-skim ricotta cheese
2 tablespoons – milk
1/4 cup – asparagus, diced
1/2 teaspoon – fresh chives, chopped
1 piece – whole wheat bread, toasted
Pair each serving with:
8-ounce glass of milk
DIRECTIONS
Beat two eggs in a medium bowl. Add the ricotta cheese and 2 tablespoons milk to the eggs and mix well. Stir in the asparagus and chives.
Heat a skillet to medium heat. Scramble the egg mixture in a skillet while toasting the bread. Place the piece of toast on a plate and top with the scrambled eggs. Serve with the remaining 8-ounce glass of milk.
Recipe and photo by Chrissy Taylor of The Taylor House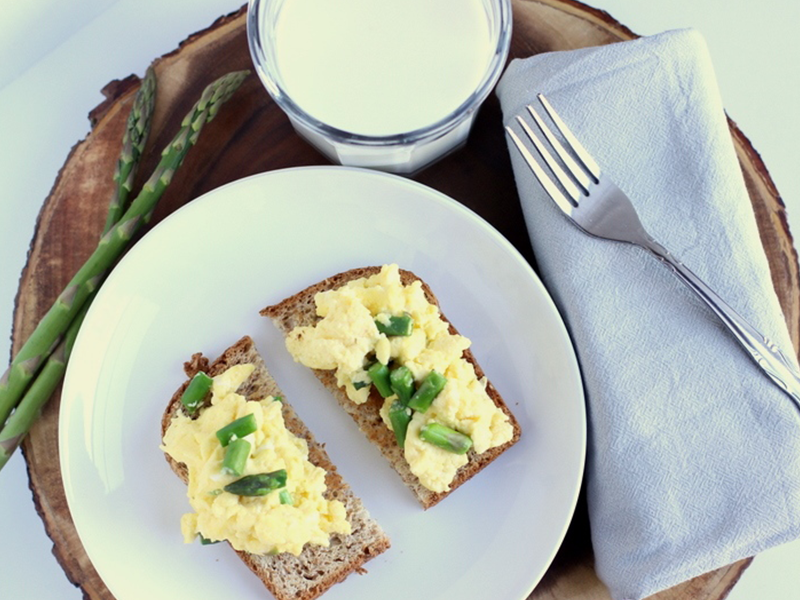 NUTRITION
360 calories; 13 g fat; 5 g saturated fat; 385 mg cholesterol; 30 g protein; 30 g carbohydrates; 3 g fiber; 410 mg sodium; 517 mg calcium. Nutrition figures based on using fat-free milk, and include an 8-ounce glass of milk.