This Greek milk pie recipe uses real milk, a simple custard, and a clever trick for artfully arranging phyllo dough to get all the right flavor in less time.
Ingredients
1 16-ounce package – phyllo dough, thawed
6 tablespoons – salted butter, melted and cooled
3/4 cup sugar, plus 1 teaspoon – granulated sugar
1/4 teaspoon – ground cinnamon
3 cups – dairy milk
1 – cinnamon stick
peel of 1 lemon*
5 – large eggs
powdered sugar, for finishing (optional)
*Use a vegetable peeler to get approximately 3 or 4 strips of lemon peel. No need to grate or chop. Be mindful to get as little of the white, bitter pith as possible.
Alternate options for out-of-stock ingredients:
Make your own powdered sugar by blending 1 cup granulated sugar and 1 teaspoon corn starch until a fine powder
Substitute nutmeg or allspice for cinnamon (use only 1/4 of the amount)
DIRECTIONS
Preheat the oven to 350°F. Brush the bottom and sides of a 10 to 12-inch round baking dish with butter; set aside. One by one, lay a single sheet of thawed phyllo dough with the long sides parallel to the edge of your work surface. Brush the sheet with butter. Then, gently push each of the long edges towards each other, creating a long, "ruffled" strip of dough. Create a spiral with your first strip and place it in the center of the prepped baking dish. Wrap all subsequent strips around the one before it, filling the dish with a ruffled circle of dough that forms from the center outward.
Brush the top of the phyllo dough with the remaining butter and sprinkle the top evenly with 1 teaspoon of sugar and cinnamon. Bake in the preheated oven for 20 minutes, before allowing to rest on the counter. Leave the oven on.
In the meantime, place milk, cinnamon stick, and lemon peel in a medium saucepan set over medium flame. Heat until just barely a boil. Remove from heat and allow it to sit for 5 minutes.
Whisk together eggs and remaining 3/4 cup sugar until frothy and all of the sugar has dissolved. Remove cinnamon stick and lemon peel from the heated milk. Pour it into the egg mixture in a very slow, steady stream, whisking all the while.
Pour egg-milk mixture over par-baked phyllo and return to the oven for another 20 to 25 minutes, until the custard is set and the top is a deep golden brown. Rest for at least 5 minutes before dusting with powdered sugar and serving.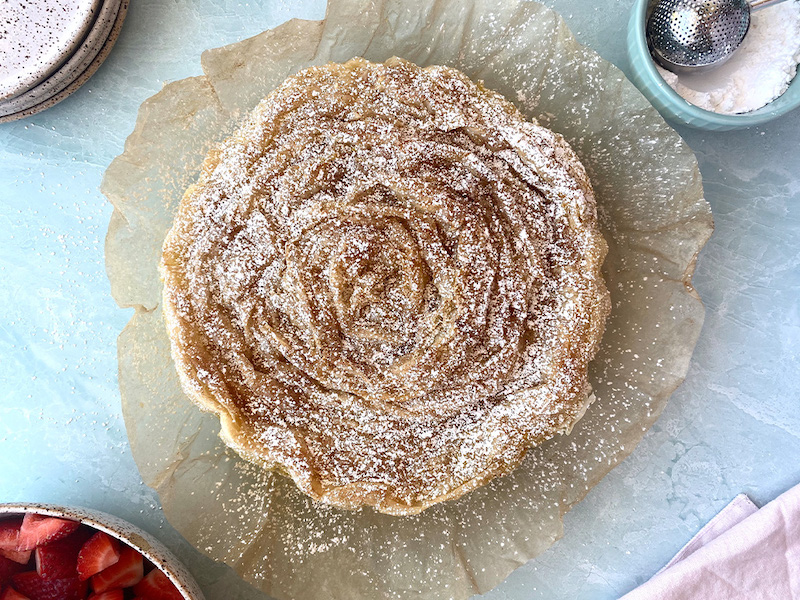 NUTRITION
410 calories; 16 g fat; 8 g saturated fat; 165 mg cholesterol; 11 g protein; 55 g carbohydrates; 0 g fiber; 430 mg sodium; 136 mg calcium. Nutrition figures based on using low-fat white milk and do not include optional ingredients.
Recipe & photo by: Stacie Billis for Feed Me Media