Savory Oatmeal with Soft-Cooked Egg and Bacon
Breakfast
Replace your same old oatmeal recipe with a new twist in the morning. This savory oatmeal recipe includes oatmeal with milk with egg and bacon, which turns a standard breakfast staple into a satisfying and savory oatmeal.
Ingredients
1 cup – low-fat milk
1/2 cup – old fashioned oats, uncooked
pinch – sea salt (plus additional for serving)
1 teaspoon – cooking oil (or 1/2 second spray)
1 – large egg
1 tablespoon – Cheddar cheese, shredded
1 slice – cooked bacon, coarsely chopped
2 teaspoons – green onion, sliced
fresh cracked pepper
Pair each serving with:
8-ounce glass of milk
DIRECTIONS
Combine 1 cup milk, oats and salt and cook according to package instructions to desired creaminess. While the oats cook, heat a small, non-stick skillet over medium.
Lightly coat with cooking oil. Add egg and cook to desired doneness, about 3-4 minutes for a runny yolk.
Serve oatmeal in a bowl topped with cheese, bacon, egg and green onion. If desired, season with salt and pepper. Serve with an 8-ounce glass of milk.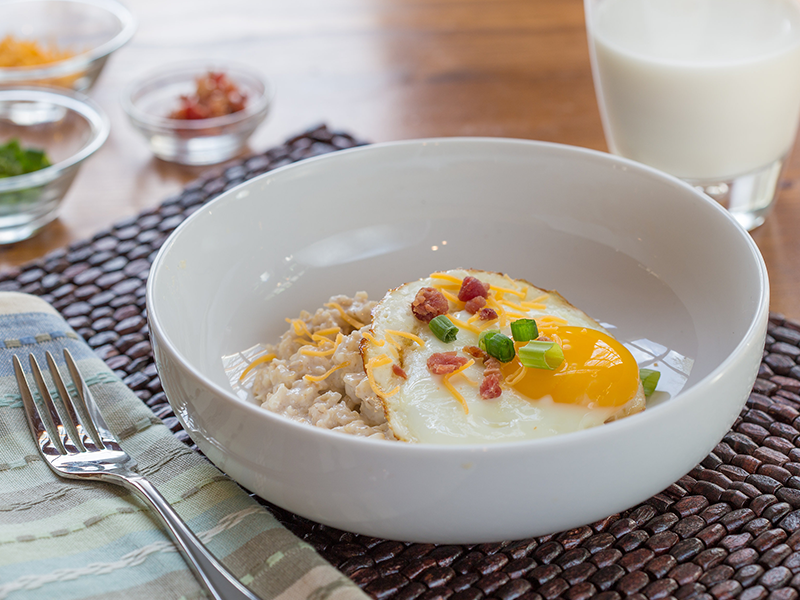 NUTRITION
540 calories; 23 g fat; 8 g saturated fat; 225 mg cholesterol; 32 g protein; 52 g carbohydrates; 4 g fiber; 800 mg sodium; 605 mg calcium. Nutrition figures based on using low-fat milk, and include an 8-ounce glass of milk.