Not only is scrambled eggs on toast a kid-friendly recipe, it's a tasty and nutritious breakfast. To add another dimension to your kids' breakfast, try this twist on an old favorite—our Scrambled Eggs-in-a-Hole Toast recipe.
Ingredients
1 – large egg
1 teaspoon – fat-free milk
pinch– kosher salt
1/2 teaspoon – black pepper
1 tablespoon – fat-free cheddar cheese, shredded
2 slices – multigrain bread, sliced 1" thick
non-stick olive oil spray
2/3 cup – cherry tomatoes, quartered
1/2 teaspoon – extra virgin olive oil
4 – basil leaves, thinly sliced
Pair each serving with: 8-ounce glass of milk
DIRECTIONS
In a small bowl, scramble together egg, 1 teaspoon of milk, salt and black pepper and cheese. Set aside.
Using a small 2.5" biscuit cutter or cookie cutter, cut a circle out of the center of each slice of bread. Reserve centers of bread for another recipe like homemade bread crumbs, croutons, or toast pieces for a later time.
Spray a large non-stick skillet with extra virgin olive oil spray and place over medium-low heat. Place both pieces of bread in the skillet so that the bread is lying flat against the bottom of the surface. Carefully and slowly pour half of the scrambled egg mixture into the open hole of one piece of bread. Repeat with the remaining egg mixture and second piece of bread.
Using a small spatula or spoon, gently stir the eggs in the bread taking care not to move the bread. Cover the skillet and let sit for 1 minute or until eggs look almost set. Gently flip the eggs and bread slices and cook for about 30 seconds. Remove to plates and keep warm.
In a medium bowl, toss together tomatoes, extra virgin olive oil, basil leaves, and remaining salt and pepper. Spoon tomatoes over eggs and serve egg-in-a-hole toast with remaining 8-ounce glass of milk. Enjoy!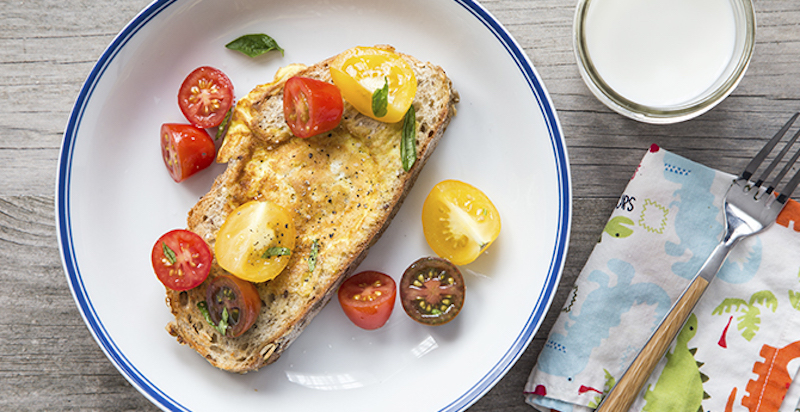 NUTRITION
230 calories; 5 g fat; 1.5 g saturated fat; 100 mg cholesterol; 17 g protein; 30 g carbohydrates;  3 g fiber; 360 mg sodium; 393 mg calcium. Nutrition figures based on using fat-free milk, and include an 8-ounce glass of fat-free milk.