Ingredients
Donuts:
1 1/2 cups – white whole wheat flour
1/3 cup – brown sugar, packed
1/2 teaspoon – baking soda
1/2 teaspoon – baking powder
1/2 teaspoon – salt
1 – egg
1 (6 ounce) container – fat-free plain yogurt
1/4 cup – vegetable oil
1/4 cup – low-fat or fat-free milk
Cinnamon Sugar Coating:
1/4 cup – sugar
1/2 teaspoon – ground cinnamon
2 tablespoons – melted butter
Pair each serving with:
8-ounce glass of milk
DIRECTIONS
Preheat the oven to 350°F. Coat a non-stick standard-sized donut pan with non-stick spray.
In a bowl stir together the flour, brown sugar, baking soda, baking powder, and salt. In a second bowl, combine the egg, yogurt, oil, and milk. Stir the wet ingredients into the dry ingredients, mixing just until combined. Batter will be thick.
Spoon the batter into a gallon-size resealable plastic bag. Cut a corner off the bag and pipe the batter into the prepared pan. Bake for 10–15 minutes or until firm to the touch. Cool the donuts in the pan slightly.
Meanwhile, stir together the sugar and cinnamon. Remove the donuts from the pan and brush them on all sides with melted butter. Dredge the donuts in the cinnamon-sugar mixture until coated. Serve warm or at room temperature. Pair with an 8-ounce glass of milk.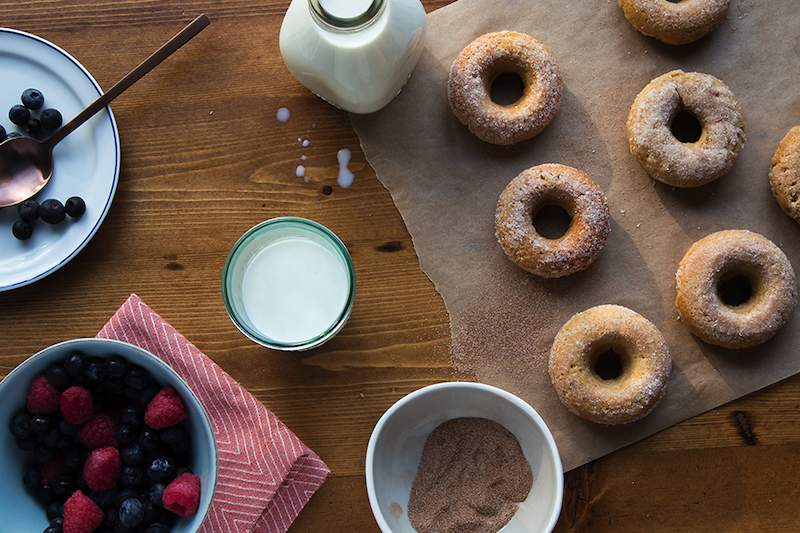 NUTRITION
330 calories; 11 g fat; 3 g saturated fat; 35 mg cholesterol; 14 g protein; 46 g carbohydrates; 2 g fiber; 380 mg sodium; 393 mg calcium. Nutrition figures based on using fat-free milk, and include an 8-ounce glass of milk.