Southwest Breakfast Protein Sandwich
Breakfast
Add the flavors and spices of the Southwest with an egg breakfast sandwich recipe that adds 25 grams of protein at breakfast when paired with an 8-ounce glass of milk.
Ingredients
1 – English muffin
2 – large eggs
1/3 cup – milk
1/4 teaspoon – black pepper, ground
1/2 teaspoon – chili powder
1/2 teaspoon – ground cumin
2 tablespoons – green bell pepper, diced
2 tablespoons – red bell pepper, diced
1/4 cup – shredded Monterey Jack cheese
1 slice – reduced-sodium deli ham, sliced in half
1/4 avocado, sliced
Pair each serving with:
8-ounce glass of milk
DIRECTIONS
Preheat oven to 350°F. In a medium bowl combine eggs, 1/3 cup milk, pepper, chili powder, and cumin and whisk well. Stir in diced bell peppers.
Heat a medium non-stick pan or skillet over medium heat. Transfer egg mixture to the pan or skillet and stir for 4-5 minutes until eggs are scrambled and fully cooked. Slice English muffin in half so that there are two slices. On top of each slice, sprinkle 2 tablespoons of cheese, one of the half slices of ham, half of the scrambled egg mixture, and half of the sliced avocados.
Place sandwiches on a foil-lined baking sheet. Bake for 5-8 minutes until cheese is melty and ham is heated through. Serve immediately along with an 8-ounce glass of milk.
Recipe and photo by Tiffany Edwards of Creme de la Crumb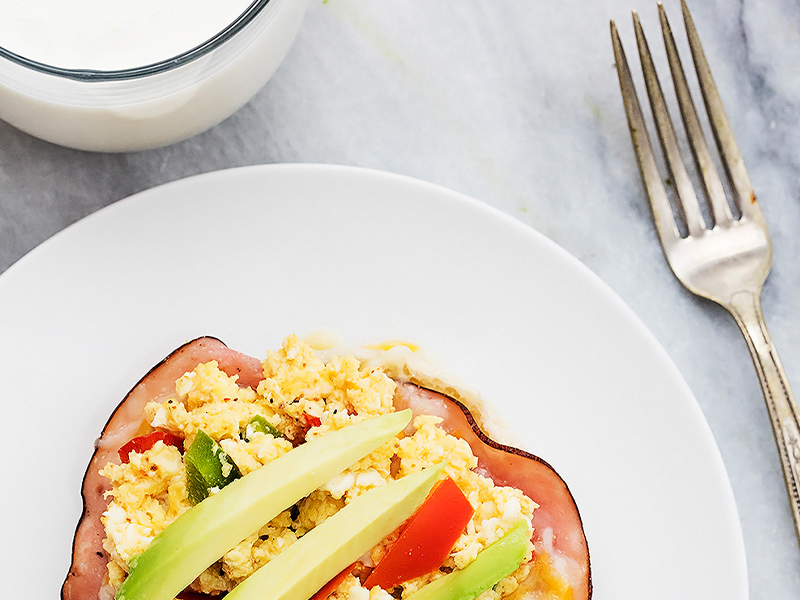 NUTRITION
350 calories; 14 g fat; 5 g saturated fat; 210 mg cholesterol; 25 g protein; 32 g carbohydrates; 3 g fiber; 550 mg sodium; 510 mg calcium. Nutrition figures based on using fat-free milk, and include an 8-ounce glass of milk.