Amaranth Porridge with Pears, Crunchy Pecans and Yogurt
Breakfast
Ingredients
Porridge:
1/2 cup – uncooked amaranth
1/2 cup – water
1 cup – milk
1/4 teaspoon – salt
Pears:
1 teaspoon – maple syrup
1 – large pear
1/2 teaspoon – ground cinnamon
1/4 teaspoon – ground ginger
1/8 teaspoon – ground nutmeg
1/8 teaspoon – ground clove
Pecan/Pear Topping:
2 tablespoons – pecan pieces
1 teaspoon – pure maple syrup
1 cup – plain non-fat Greek yogurt, for serving
Pair each serving with:
8-ounce glass of milk
DIRECTIONS
Preheat oven to 400°F. Toss together the 1 teaspoon maple syrup with the pecan pieces. Roast until the pecans are toasted and the maple syrup has dried, 10 to 15 minutes. Pecans will become quite fragrant when done. Pecans will crisp as they cool.
Along with the pecans, dice the pears and toss with the remaining 1 teaspoon of maple syrup and spices. Roast in a roasting pan for 15 minutes, until the pears are tender.
Drain and rinse amaranth. Combine with 1 cup milk, water and salt. Bring amaranth to a boil, and reduce to a simmer (all the way to low). Cover and let simmer for 25 minutes until amaranth is soft but there is still some liquid left. Remove from heat and let sit for 5–10 more minutes to thicken amaranth. Add a bit more milk to thin the texture out if desired.
Stir in 3/4 of the roasted pears in the porridge. Divide yogurt into two bowls and top with porridge, roasted pecans, and the remaining pear pieces.
Serve with an 8-ounce glass of milk.
Recipe and photo by Erin Alderson of Naturally Ella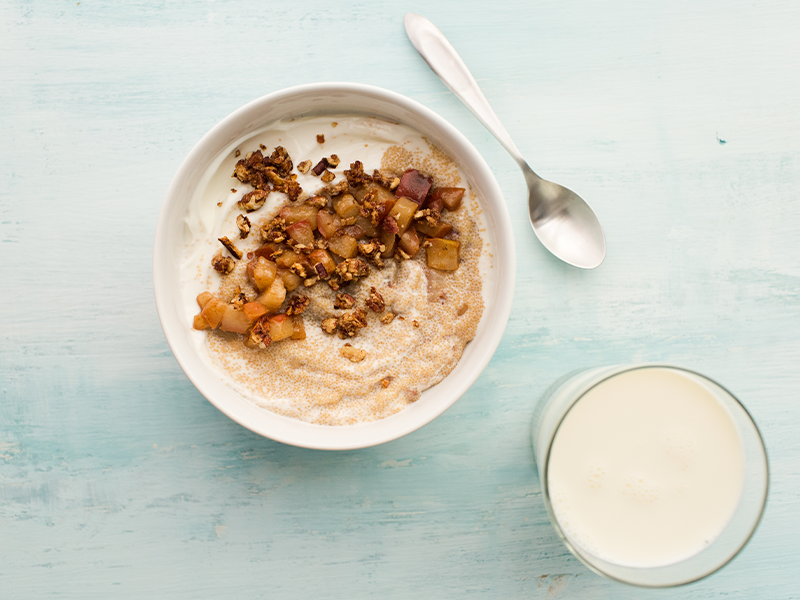 NUTRITION
500 calories; 9 g fat; 1.5 g saturated fat; 15 mg cholesterol; 31 g protein; 78 g carbohydrates; 8 g fiber; 490 mg sodium; 680 mg calcium. Nutrition figures based on using fat-free milk, and include an 8-ounce glass of milk.