Arepas are a delicious tradition in Colombia and Venezuela. The flat and round patties made from precooked corn flour can be grilled, baked, fried, boiled or steamed, and are delicious for any meal. No matter how you serve them — filled with shredded pork, topped with an egg or on their own — fresh arepas are great for any menu.
Ingredients
1 cup – milk
1/2 cup – water
1 1/2 cups – precooked corn flour
1 tablespoon – vegetable oil
2 teaspoons – kosher salt
1/2 cup – queso blanco (white cheese), shredded
DIRECTIONS
In a mixing bowl whisk together the precooked corn flour and salt. In another mixing bowl, add milk, water and queso fresco. Slowly add the flour mixture, stirring until well combined. The dough will be loose at first, but the flour will absorb the liquid.
Start to knead the dough in the bowl, and once it becomes soft and does not stick to your hands, after about 5 minutes, the dough is ready to be shaped. While kneading, if the dough seems too stiff and breaks apart, add a few tablespoons of water; if it is too sticky, add a little more flour.
Divide the dough into equal size balls, and flatten each between your palms into patties about 1/2-inch thick.
Heat the vegetable oil in a large non-stick skillet or flat top on medium-low heat. Add the arepas in batches (if your cooking surface is small). The arepas should sizzle as they hit the skillet.
Cook the arepas until they're golden and have a nice crust, 6 to 8 minutes. Flip them and brown the other side for an additional 6 to 8 minutes. Then cover the arepas and continue to steam them for another 5 minutes.
Serve with a café con leche!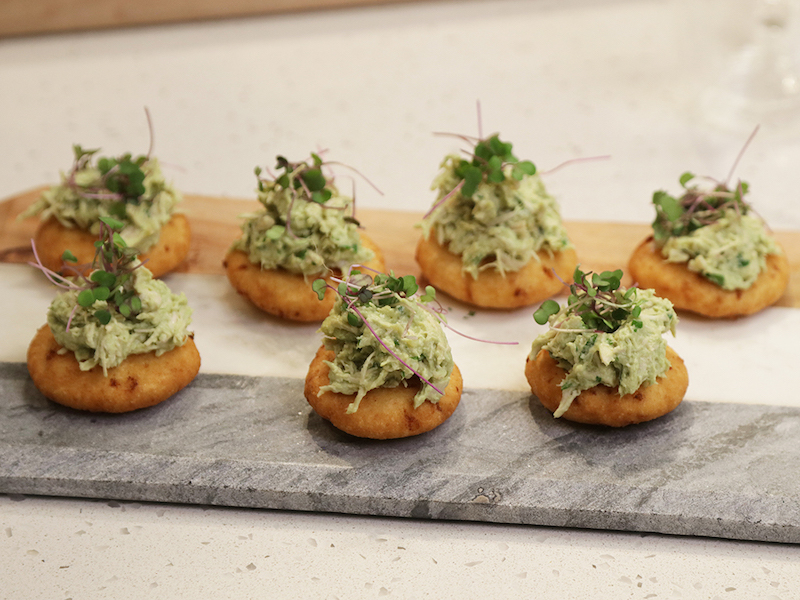 NUTRITION
170 calories; 6 g fat; 1.5 g saturated fat; 10 mg cholesterol; 6 g protein; 24 g carbohydrates; 2 g fiber; 730 mg sodium; 157 mg calcium. Nutrition figures based on using fat-free milk.