The Latino take on rice pudding, arroz con leche, is truly a classic Latin American dessert with dozens of variations, but the best is always abuela's. This delicious recipe puts together two favorites, strong Cuban café con leche and rice pudding. So, don't eat it before going to bed!
Ingredients
Rice Pudding:
1 1/4 cup – water
1 1/4 cup – milk
1 1/2 cups – short grain rice
1/2 cup – brewed coffee
1 (12 ounce) can – evaporated milk
1 (14 ounce) can – condensed milk
1 tablespoon – vanilla extract
1/4 teaspoon – salt
Chocolate Whipped Cream:
3 ounces – dark or bittersweet chocolate
1 cup – heavy cream
1/2 teaspoon – salt
DIRECTIONS
Directions for the Rice Pudding
Combine milk, water and rice in a saucepan. Bring to a boil over medium-high heat, then reduce heat to medium-low, cover, and simmer for 20 minutes.
After rice has simmered for 20 minutes, lower the heat and gradually stir evaporated milk and condensed milk into the rice.
Once combined, mix in the espresso, vanilla, and salt. Continue to stir until the mixture thickens, about 7 to 10-15 minutes. When pudding reaches desired consistency, remove from heat and pour into individual dishes, or a large bowl.
Store in the refrigerator until ready to serve.
Directions for the Chocolate Whipped Cream
Put the chocolate and salt in a medium bowl.
Bring the cream to a gentle boil in a large heavy saucepan, and pour over the chocolate. Let stand for 30 seconds, then stir well.
Let stand for another 15 minutes or so to finish melting the chocolate. Let cool and refrigerate for at least 4 hours, or until completely chilled.
Once fully chilled, whip the cream with an electric mixer until it lightens and hold a soft peak. Use immediately or refrigerate until needed.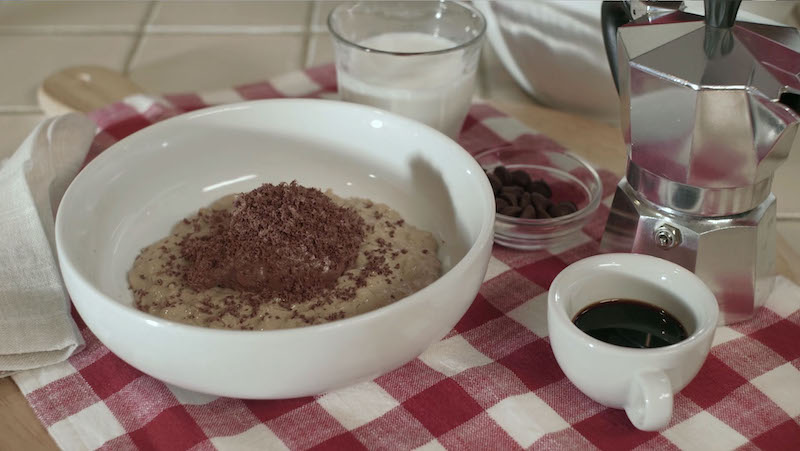 NUTRITION
530 calories; 24 g fat; 15 g saturated fat; 70 mg cholesterol; 12 g protein; 69 g carbohydrates; 2 g fiber; 360 mg sodium; 321 mg calcium. Nutrition figures based on using low-fat milk.