Ingredients
1/4 cup (57g) – unsalted butter, melted
12 thick slices – day-old challah
6 tablespoons (75g) – brown sugar
1 teaspoon – cinnamon
1/8 teaspoon – ground nutmeg
1/8 teaspoon – ground cardamom
6 – large eggs
1 cup (240g) – whole milk or part-skim ricotta
1/2 teaspoon – kosher salt
1 1/2 teaspoons – vanilla
zest of 1 lemon
blueberries, for serving (optional)
powdered sugar, for serving (optional)
Pair each serving with:
8-ounce glass of milk
DIRECTIONS
Pour the melted butter in a 9×13″ casserole dish and layer in 6 slices of bread. Sprinkle on half of the sugar, cinnamon, nutmeg, and cardamom. Layer on remaining slices of bread.
In a large bowl, whisk together the eggs, milk, ricotta, salt, vanilla, and lemon zest and pour it on. Sprinkle with remaining sugar, cinnamon, nutmeg, and cardamom. Cover and refrigerate overnight.
Bake covered at 350°F for 30 minutes, and then uncovered for 15 minutes, until browned.
Top with berries and powdered sugar and serve alongside an 8-ounce glass of milk!
Note: You can also arrange the bread slices in an 8×12″ casserole dish, sprinkling each slice with some of the sugar and spices before lining them up domino style. The custard won't get as evenly distributed (the top parts will be a little crisper and the bottom will be super custardy), but it looks cool!!!
Recipe and photos by Molly Yeh of My Name Is Yeh.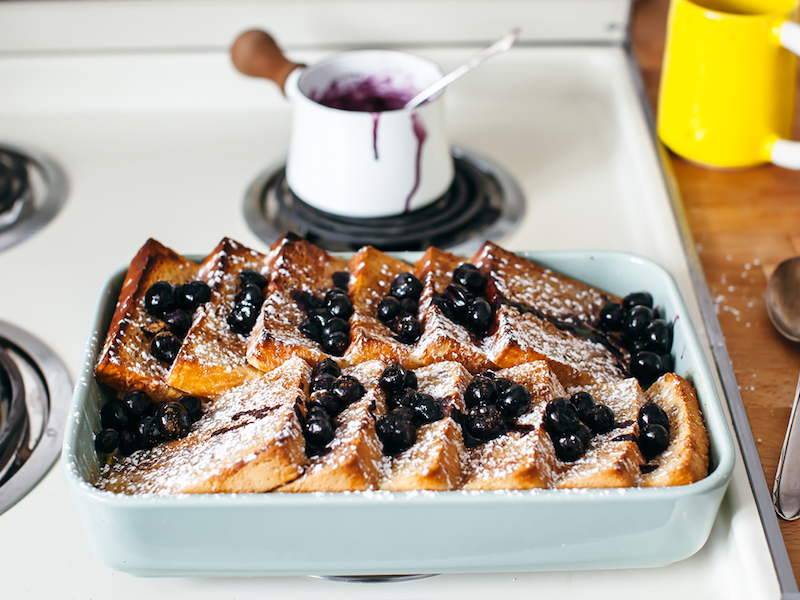 NUTRITION
550 calories; 18 g fat; 8 g saturated fat; 180 mg cholesterol; 25 g protein;  71 g carbohydrates; 0 g fiber;  770 mg sodium; 430 mg calcium. Nutrition figures based on using part-skim ricotta and include an 8-ounce glass of low-fat milk.