Nothing about this Blue Moon Milk recipe will have you feeling blue! Add some homemade marshmallows for a family-fun activity.
Ingredients
Moon Milk Ingredients:
3 cups – whole milk
1 tablespoon – pure maple syrup
1/2 teaspoon – vanilla extract
pinch – nutmeg
marshmallows, see below for homemade
Homemade Marshmallow Ingredients:
3/4 ounce – unflavored gelatin (3 packets)
3/4 cup – cold water, divided
2 cups – sugar
2/3 cup – light corn syrup
1/4 teaspoon – salt
1 tablespoon – vanilla or almond extract
1/4 cup – powdered sugar
DIRECTIONS
Moon Milk Directions:
In a medium sauce pan, bring milk to a low boil. Add in maple syrup, stirring for 1 minute, then add in nutmeg and vanilla extract. Serve with marshmallows.
Marshmallow Directions:
Line a 9×9-inch square pan with plastic wrap and lightly grease it with cooking spray. Add 1/2 cup cold water to the bowl of an electric mixer. Sprinkle gelatin powder over the water. Let soak for 10 minutes while you continue with the next step.
In a medium sauce pan combine sugar, corn syrup, and remaining 1/4 cup water over medium-high heat. Whisk until sugar is just dissolved and bring to a rapid boil. Once the liquid starts boiling, stop whisking and set a timer for 1 minute.
Pour the boiling mixture from the sauce pan into the bowl of the stand mixer. Turn it on low and work up to high speed. Allow to beat for 10-12 minutes until fluffy and just warm (no longer hot). Beat in the extract until incorporated.
Thoroughly grease your hands and a rubber spatula or spoon with cooking spray and transfer mixture into your prepared pan in an even layer. Grease a second sheet of plastic wrap and gently pat into place on top of the marshmallow mixture to create a seal so it doesn't dry out.
Allow to set for 3-4 hours (or up to overnight) at room temperature. Sprinkle a cutting board with powdered sugar, transfer the marshmallow to the cutting board and sprinkle more powdered generously over the top and sides.
Use a sharp knife to cut into squares, toss with more powdered sugar. Store in airtight container at room temperature.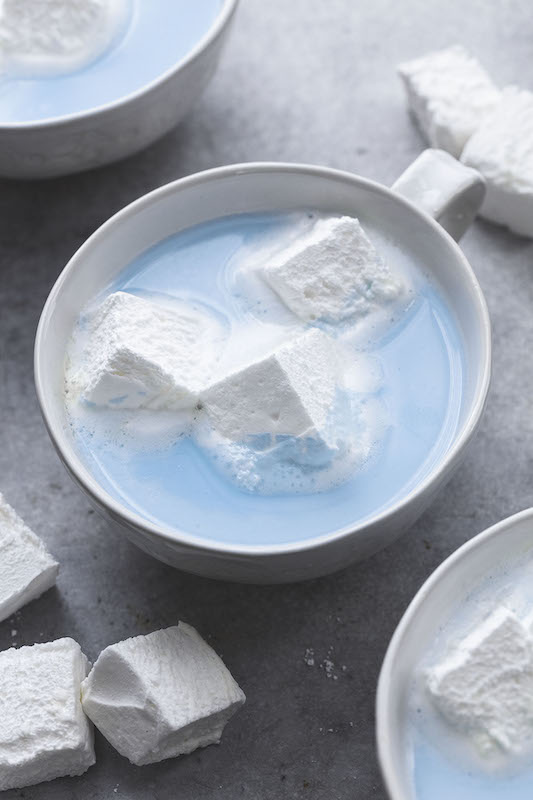 NUTRITION
190 calories; 2.5g fat; 1.5g saturated fat; 10mg cholesterol; 8g protein; 34g carbohydrates; 0g fiber; 125mg sodium; 310mg calcium. Nutrition figures based on using low-fat white milk and do not include optional ingredients.
Recipe & photo by: Tiffany Azzure of Crème de la Crumb