When you bake a batch of breakfast bars at home, you can skip the grocery aisle. Simply choose your kids' favorite fruit, nuts and other ingredients, and they have their own made-to-order option to grab and go.
Ingredients
1 cup – old-fashioned or quick oats (not instant)
1 bag – mixed dried fruit (7 ounces)
1/4 cup – sugar
1/2 cup – shredded unsweetened coconut (optional)
1/4 cup – chopped walnuts (optional)
1/2 teaspoon – salt
1/4 teaspoon – ground cinnamon
1/4 cup – honey
2 tablespoons – olive oil
1/4 cup – unsweetened almond or peanut butter
1 tablespoon – low-fat or fat-free milk
1/2 teaspoon – vanilla extract
Pair each serving with an 8-ounce glass of milk
DIRECTIONS
Preheat oven to 350°F; lightly coat an 8×8-inch baking pan with non-stick spray.
In a bowl, toss together the oats, dried fruit, sugar, coconut, walnuts, salt, and cinnamon. Set aside. In a second bowl, blend together the honey, olive oil, almond/peanut butter, milk, and vanilla. Pour honey mixture over the oat mixture and stir until completely coated.
Pour mixture into prepared pan and press firmly. Bake for 20 to 25 minutes or until beginning to brown and turn bubbly. Remove from oven, let stand for 10 minutes, then cut while still warm. Let cool completely before removing from the pan.
Store in air tight container. Bars will last up to a week. When ready to serve, pair with a glass of milk!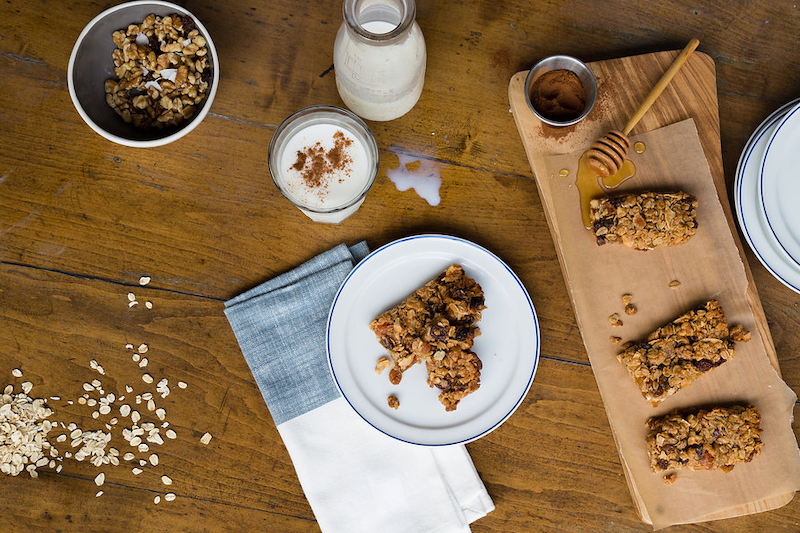 NUTRITION
320 calories; 8 g fat; 1 g saturated fat; 5 mg cholesterol; 12 g protein; 51 g carbohydrates; 3 g fiber; 300 mg sodium;  321 mg calcium. Nutrition figures based on using fat-free milk, and include an 8-ounce glass of milk.