Ingredients
2 cups – whole grain cereal (see note below in nutrition section)
1 tablespoon – chia seeds
1/4 cup + 1 tablespoon – smooth peanut butter, room temperature
2 tablespoons – honey
chopped freeze-dried fruit (optional)
3 tablespoons – white chocolate or yogurt chips + 1 tablespoon coconut oil, melted (optional)
additional peanut butter, honey, and/or chia seeds (optional)
DIRECTIONS
Combine whole grain cereal and chia seeds in a small mixing bowl. Combine peanut butter and honey in a microwave-safe bowl and heat in the microwave just until honey begins to bubble, about 15 seconds on high power.
Stir to combine the honey and peanut butter and pour it over the cereal-chia mixture. Using a silicone spatula (or your hands), mix until fully incorporated.
For mini cereal cups, firmly press two tablespoons of the mixture into a silicone mini-muffin pan (see notes). For larger cereal cups, use 1/4 cup of the mixture. Top with desired toppings and chill the pan in the freezer for about 10 minutes, or at least 30 minutes in the refrigerator.
Pair with an 8-ounce glass of milk and enjoy!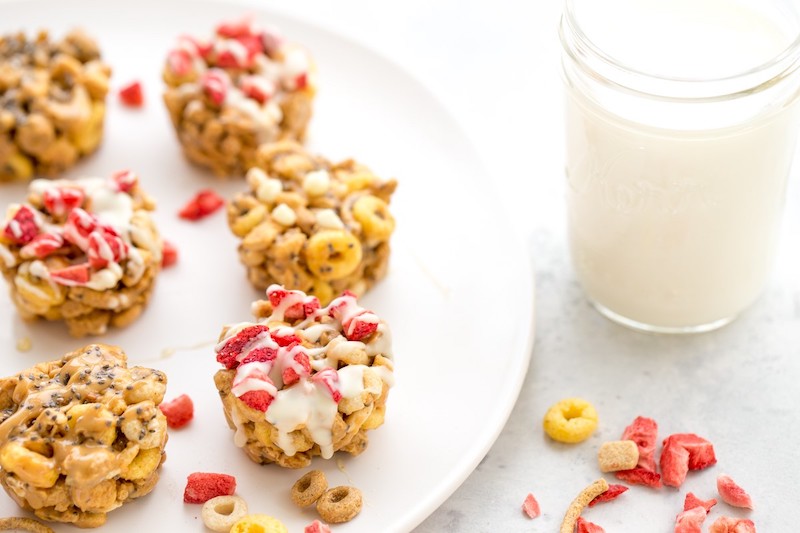 NUTRITION
390 calories; 14 g fat; 4 g saturated fat; 10 mg cholesterol; 18 g protein; 55 g carbohydrates; 6 g fiber; 200 mg sodium; 322 mg calcium. Nutrition figures include an 8-ounce glass of low-fat milk and do not include optional ingredients.
Notes
To prevent these treats from getting overly sweet, we recommend a whole grain cereal with 6 grams of sugar or less per 1 cup serving.
A silicone muffin tray will make for the easiest removal but you can also use a standard, non-stick muffin pan. Just remove them gently with a plastic knife so it doesn't scratch your bakeware.
Cereal cups can be stored in an airtight container in the refrigerator for up to 1 week. 
Recipe & photo by Elle Penner, MPH RD