When you want a frittata to take on the go, just downsize it! Here's a super simple way to make single-size portions that are a delicious option for a make-ahead breakfast.
Ingredients
canola or olive oil spray
6 – large eggs
1 cup – low-fat milk
1/3 cup – white whole-wheat flour (or unbleached all-purpose flour)
1 1/4 tsp – reduced-sodium soy sauce
1/2 tsp – garlic powder
1/4 tsp – freshly ground black pepper
1 3/4 cups – frozen broccoli florets, thawed and chopped into bite-size pieces
3/4 cup – shredded reduced-fat Cheddar cheese (use sharp Cheddar for maximum flavor)
1/4 cup – grated Parmesan cheese
1/2 cup – diced red bell pepper
Pair each serving with:
8-ounce glass of milk
DIRECTIONS
Preheat oven to 350°F. Coat a standard muffin pan with oil spray and place on a sheet pan to prevent spills.
In a large bowl, beat eggs with a fork or whisk until frothy, about 1 minute. In a bowl or cup, whisk flour into milk until incorporated. Combine milk mixture, Parmesan, soy sauce, garlic powder and beaten eggs.
Evenly distribute broccoli and Cheddar in the muffin tins. Fill tins evenly with egg mixture, stirring the bowl twice during the process to prevent settling, and sprinkle bell peppers on top.
Bake 20 minutes and rotate pan. Continue to bake until the mixture is set in the middle, or until a knife inserted into the center comes out clean, about 5-10 minutes.*
Allow to cool for 5 minutes before running a knife around the edges of frittatas to release. Cool leftovers and store in sealed containers for up to 3 days in the refrigerator or up to 1 month in the freezer.
To reheat 1 refrigerated frittata, microwave for 45 seconds; to reheat 1 frozen frittata, microwave for 60 seconds until hot in the middle. Serve with remaining 8-ounce glass of milk.
*Frittatas prepared in dark muffin tins may take less time to cook.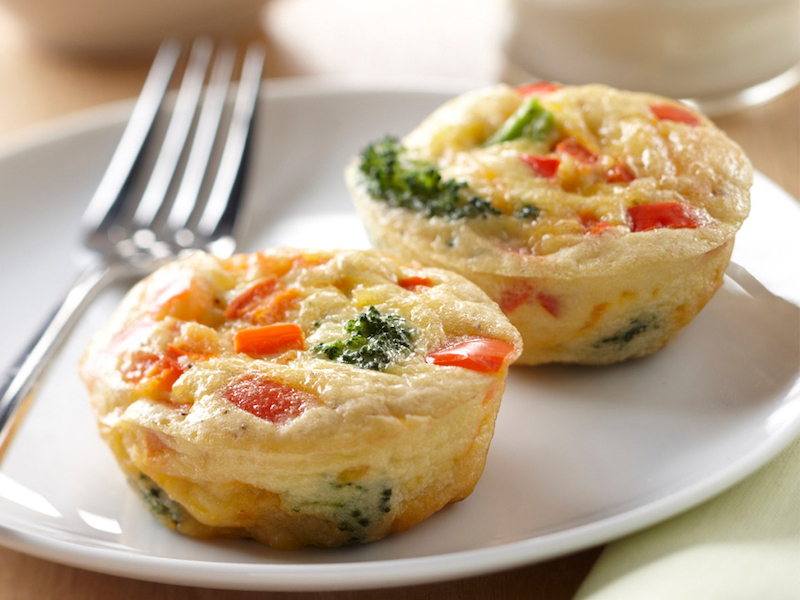 NUTRITION
280 calories; 12 g fat; 6 g saturated fat; 240 mg cholesterol; 22 g protein; 23 g carbohydrates; 2 g fiber; 410 mg sodium; 622 mg calcium. Nutrition figures based on using low-fat milk, and include an 8-ounce glass of milk.