If you're looking for new, fun breakfast ideas your kids will love, try this simple recipe for cookie cutter French toast bites made from scratch. We used a school bus to celebrate kids going back to school, but you can use any shape you want to make this easy, kid-friendly recipe any time of year!
Ingredients
4 – large eggs
1/2 cup – fat-free milk
1/2 teaspoon – ground cinnamon
1 teaspoon – vanilla extract
4 slices – whole wheat bread (such as Great Harvest Honey Whole Wheat)
4 teaspoons – salted butter
8 – 1/4" banana slices
16 – blueberries
1 cup – cherries, blueberries, bananas (optional for garnish)
Pair each serving with:
8-ounce glass of milk
DIRECTIONS
Mix eggs, 1/2 cup milk, cinnamon, and vanilla in a shallow bowl or dish. Add slices of bread and allow to soak 2 minutes. Flip and soak two minutes on side two. While bread soaks, heat skillet to medium heat and add butter to melt. Swirl around pan.
Add individual bread slices and cook for about 4 minutes per side, until French toast is lightly brown and no longer wet. Using a 5.5 x 3.25-inch bus-shaped cookie cutter or a knife, cut each slice of bread into a bus. Use excess pieces to assemble a road and place underneath bus shaped toast slices on plate; use a knife to style as desired.
Top French toast bites with two 1/4" banana slices each for wheels and four blueberries to symbolize school children. If desired, get creative and garnish with additional fruits (ideas include a cherry for a stop sign, banana slices for lanes on the road). Serve with an 8-ounce glass of milk. Enjoy!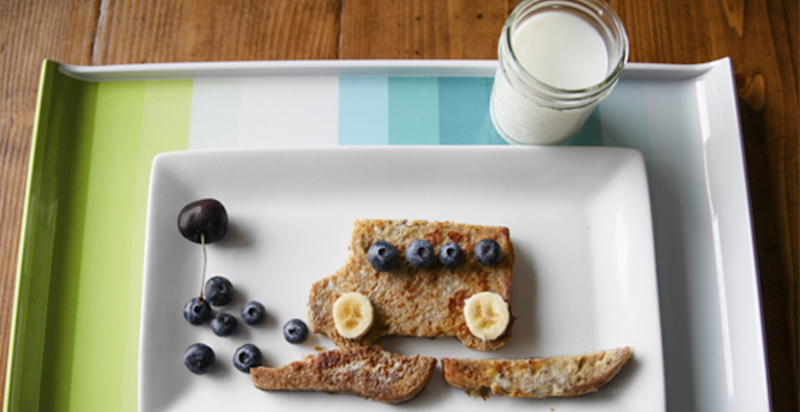 NUTRITION
290 calories; 10 g fat; 4 g saturated fat; 205 mg cholesterol; 19 g protein; 30 g carbohydrates;  2 g fiber; 350 mg sodium; 416 mg calcium. Nutrition figures based on using fat-free milk, and include an 8-ounce glass of fat-free milk.