While pink drinks are all the rage at the coffee shop, a super bowl filled with super tasty foods like açai and milk are here to stay.
Ingredients
1 (100g) – frozen açaí smoothie pack
1 cup – low-fat or fat-free milk
1 – medium banana, sliced and frozen
1 cup – mixed berries, fresh or frozen
fresh berries (optional)
granola (optional)
coconut flakes (optional)
2 slices – whole wheat bread, toasted
Morning snack:
1 cup – popped popcorn
1/2 ounce – dark chocolate chips
2 1/2 tablespoons – unsalted peanuts
Pair each serving with:
8-ounce glass of milk
DIRECTIONS
Run frozen açaí smoothie packet under warm water for 5 seconds. In a blender, combine with milk, frozen banana, berries and blend until smooth.
Garnish with fresh berries, granola and coconut flakes, stirring in just before enjoying.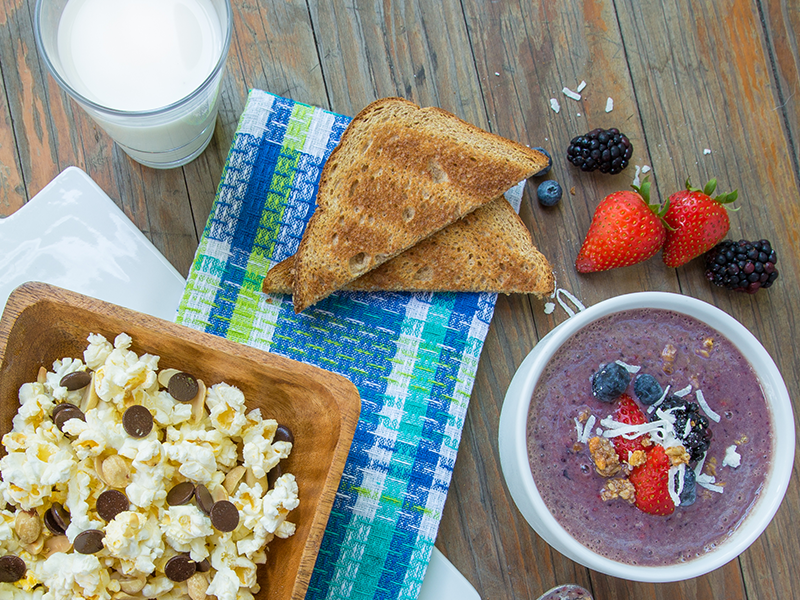 NUTRITION
Açai Bowl with Whole Wheat Toast: 240 calories; 4.5 g fat; 1 g saturated fat; 0 mg cholesterol; 10 g protein; 43 g carbohydrates; 6 g fiber; 180 mg sodium; 185 mg calcium. Nutrition figures based on using fat-free milk.
Morning Snack: 330 calories; 17 g fat; 5 g saturated fat; 5 mg cholesterol; 16 g protein; 31 g carbohydrates; 4 g fiber; 105 mg sodium; 321 mg calcium. Nutrition figures based on using low-fat milk, and include an 8-ounce glass of milk.