Creamy Spinach Potato Breakfast Casserole
Breakfast
Ingredients
1 1/2 tablespoon – olive oil, divided
1/2 cup – yellow onions, diced
8 ounces – 99% lean ground turkey, raw
2 teaspoons – ground chili powder
1/2 teaspoon – onion powder
3 ounces – fresh baby spinach leaves
1 tablespoon – garlic, minced
1 tablespoon – fresh sage, minced
2 – large eggs
1/3 cup – fat-free milk
2/3 cup – grated raw potatoes, peeled
1/2 cup – shredded low-moisture Mozzarella cheese
2 tablespoons – shredded Parmesan cheese or Spanish Manchego
salt (optional)
Pair each serving with:
8-ounce glass of milk
Alternate options:
Substitute ground meat of your choice
Consider 2 ounces frozen spinach if you don't have fresh
DIRECTIONS
Preheat the oven to 400°F. Grease a small 3-cup casserole dish or ovenproof skillet with non-stick spray.
Heat 1/2 tablespoon olive oil in a non-stick skillet over medium-high heat. Add the onions and sauté for 5 minutes or until soft and fragrant. Add the turkey, chili powder, salt (optional) and onion powder. Brown the meat until fully cooked and crumbled. Transfer to a bowl and set aside.
Add the remaining 1 tablespoon olive oil and reduce the heat to medium low. Add the garlic and sage and sauté for 2-3 minutes. Add the spinach and stir until wilted, about 2 minutes. Transfer to a bowl and set aside.
In a mixing bowl, whisk the eggs and 1/3 cup milk. Add the cooked turkey, spinach, potatoes, and Mozzarella cheese. Stir until combined. Transfer to the casserole dish. Top with the Parmesan cheese.
Bake for 20-25 minutes or until the top is golden brown and the casserole springs back when touched.
Serve with an 8-ounce glass of milk.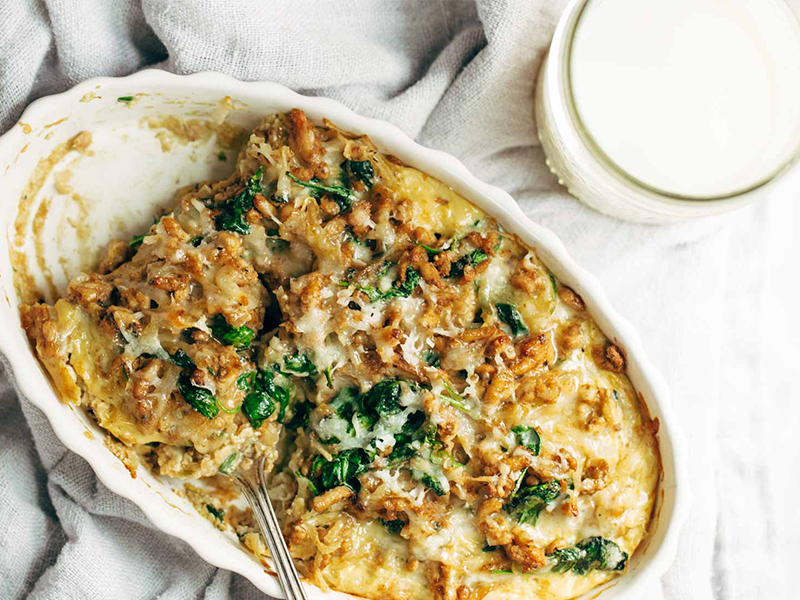 NUTRITION
340 calories; 14 g fat; 4 g saturated fat; 140 mg cholesterol; 32 g protein; 23 g carbohydrates; 2 g fiber; 430 mg sodium; 515 mg calcium. Nutrition figures based on using fat-free milk, and include an 8-ounce glass of milk.