This ghoulishly delicious graveyard of sweets — chocolate pudding, gummy worms and sandwich cookies — crafts a scary sweet treat that won't be a final resting place for long.
Ingredients
For the Pudding:
1 box – chocolate pudding mix
2 cups – cold, real chocolate milk (or amount listed on pudding box directions)
To Assemble:
10 ounces – chocolate vanilla sandwich cookies, about 20 cookies
12 – gummy worms
DIRECTIONS
Prepare a box of chocolate pudding mix, following package directions and using chocolate milk in place of classic. Pour the pudding mixture into a glass baking dish. If you don't want a skin to form, place a piece of parchment paper on top of the surface of the pudding (omit if you don't mind the pudding skin).
Chill in the refrigerator until the pudding sets, around 1 to 3 hours (or overnight). Pour the pudding mixture into a glass baking dish and spread evenly.
When ready to serve, place some gummy worms and "dirt" over the top. To prepare the "dirt," place the chocolate vanilla sandwich cookies in a large gallon resealable bag. Using a rolling pin, crush the cookies into crumbs.
You can also add other toppings, like candy corn or a few whole cookies, if desired.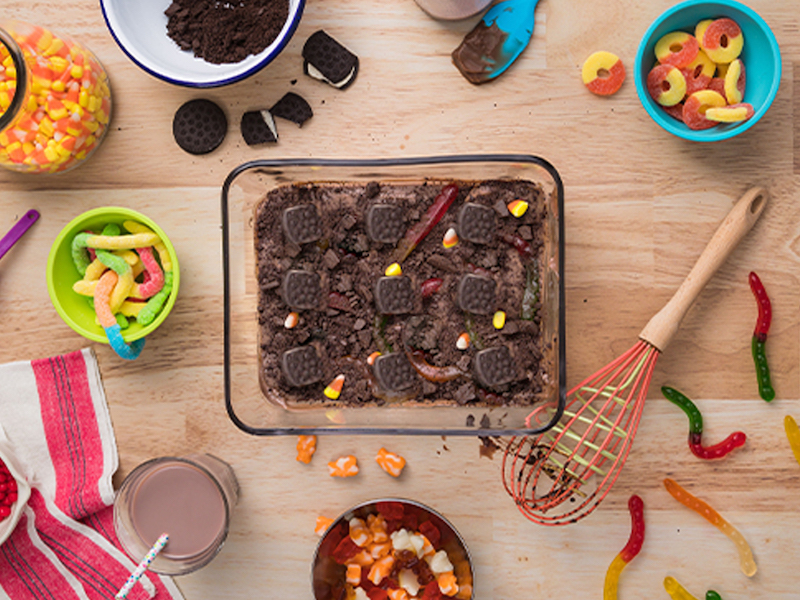 NUTRITION
360 calories; 9 g fat; 3 g saturated fat; 5 mg cholesterol; 4 g protein; 68 g carbohydrates; 2 g fiber;  290 mg sodium; 106 mg calcium. Nutrition figures based on using low-fat chocolate milk.