Ingredients
1 1/2 cups – low-fat or fat-free milk
5 – eggs
1/3 cup – sugar
1 tablespoon – vanilla extract
1 teaspoon – ground cinnamon
1/2 teaspoon – ground nutmeg
salt
1 loaf – day-old bread, sliced into 1/2-inch-thick cuts
Maple syrup or sautéed apples (see below)
Sautéed apples
2 tablespoons – butter
3 medium – tart-sweet apples (such as Braeburn), diced
1/4 cup – sugar
1 teaspoon – lemon juice
1/2 teaspoon – vanilla extract
salt
3/4 cup – fresh blackberries (optional)
DIRECTIONS
Coat an 8×8-inch baking dish with non-stick spray.
In a large bowl, whisk together the milk, eggs, sugar, vanilla, cinnamon, nutmeg, and salt. Add the bread slices and let stand for 10 minutes to soak up some of the custard. Arrange the slices in the baking dish in two rows, standing up on end. Slowly pour any remaining custard over the bread. Cover the dish with plastic wrap and refrigerate at least 4 hours or overnight.
Preheat oven to 350°F. Uncover the dish and bake for 45 minutes or until bread puffs slightly and browns.
For the apples, melt the butter in a large nonstick skillet over medium-high. Add the apples and sugar, and cook for 3 minutes, or until sugar melts and apples are soft but not mushy. Stir in lemon juice, vanilla, and berries if desired. Serve warm over French Toast Casserole.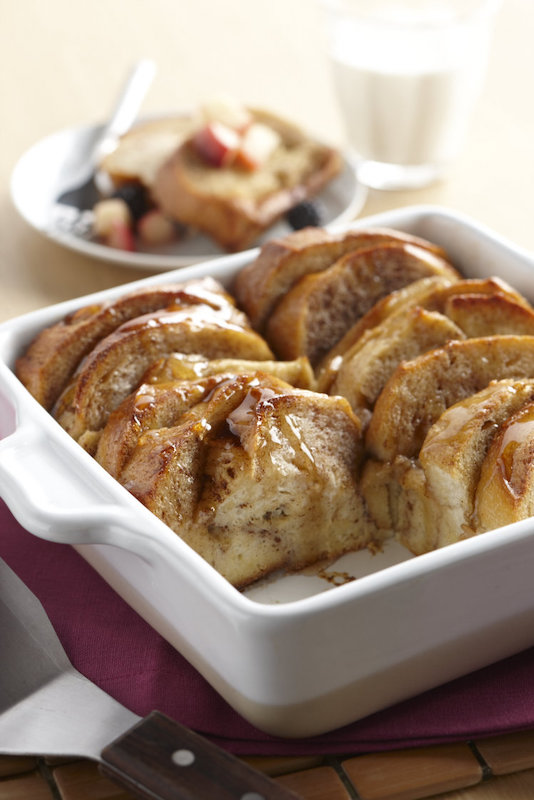 NUTRITION
350 calories; 9 g fat; 4 g saturated fat; 190 mg cholesterol; 11 g protein; 55 g carbohydrates; 4 g fiber; 350 mg sodium; 150 mg calcium. Nutrition figures based on using fat-free milk.