Ingredients
6 tablespoons – unsalted butter
1 – large onion, thinly sliced
pinch (to taste) – kosher salt
1/4 cup – flour
2 1/2 cups – whole milk
6 ounces – Gruyère cheese, shredded
4 ounces – Swiss cheese, shredded
2 ounces – Parmesan cheese, grated
8 ounces – medium shells
1 teaspoon – sweet paprika
1/4 teaspoon – cayenne pepper
1/4 teaspoon – ground nutmeg
2 teaspoons – Dijon mustard
pinch (to taste) – black pepper
1/2 cup panko breadcrumbs
Pair each serving with:
8-ounce glass of milk
DIRECTIONS
Preheat the oven to 375°F. Grease an 8×8″ baking dish.
In a large skillet, melt 2 tablespoons of the butter over medium heat. Add the onion and a pinch of salt and cook, stirring occasionally, until browned and caramelized, about 40 minutes.
Cook the pasta according to the package directions, reducing the cooking time by 1 minute. Drain and set aside.
In a large pot, melt the remaining 4 tablespoons butter over medium-high heat. Add the flour, whisking until combined, then cook for 1 minute. Add half the milk, whisking continuously until thickened, about 5 minutes, and then repeat with the other half of the milk. Add the Gruyère and Swiss and all but 2 tablespoons of the Parmesan and stir until the cheeses melt. Stir in the paprika, cayenne, nutmeg, mustard, and black pepper and salt to taste. Stir in the pasta and onions.
Transfer the mixture to the baking dish and top with the panko, a pinch of salt, a few turns of pepper, and the reserved Parmesan and bake until the top is browned, about 25 minutes Cool for 5 minutes and serve with an 8-ounce glass of milk.
Note: In a pinch, you can skip the baking step. Simply cook the pasta fully before stirring it into the cheese sauce, then serve immediately topped with panko and Parmesan.
Recipe and photos by Molly Yeh of My Name Is Yeh.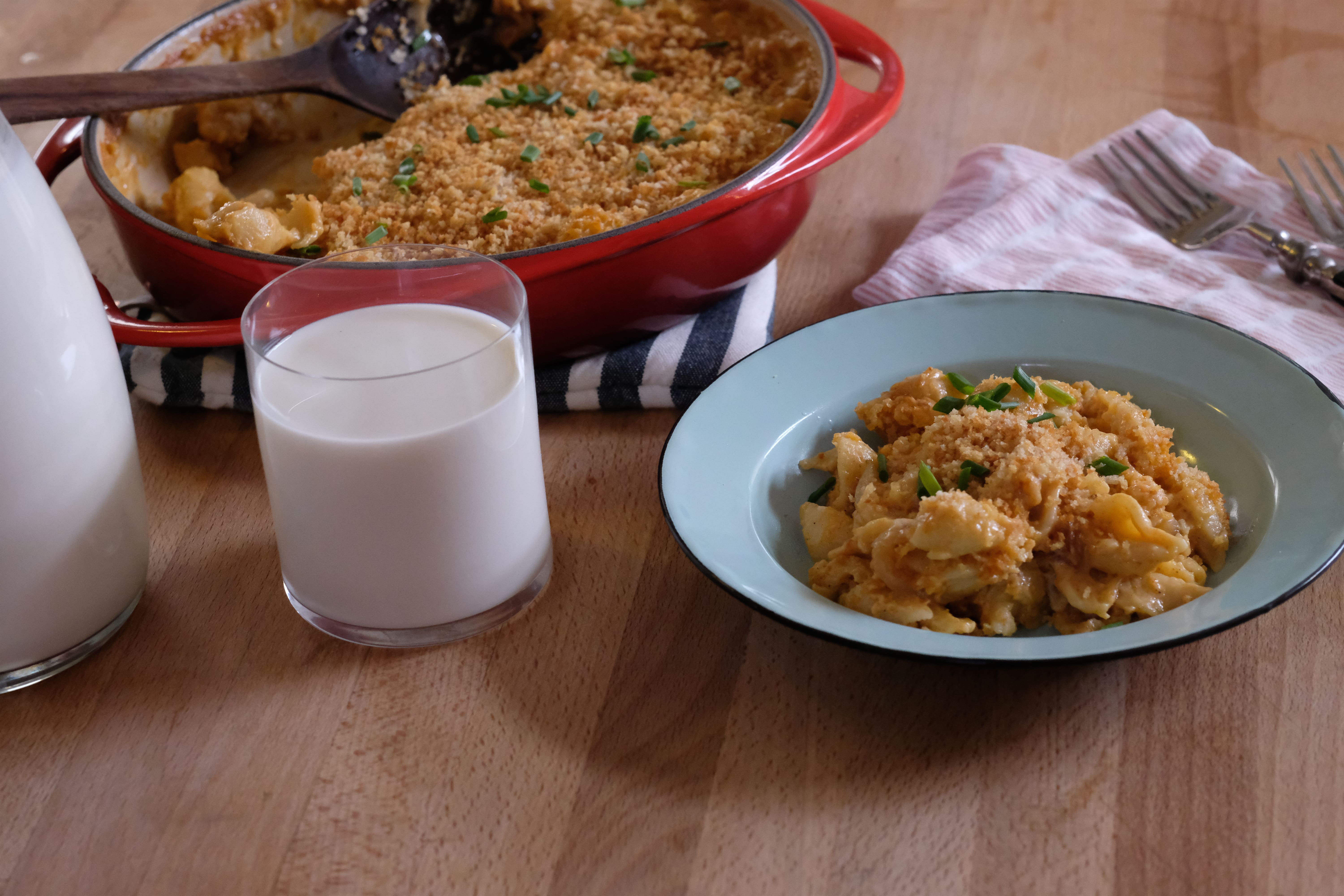 NUTRITION
690 calories;  35 g fat; 22 g saturated fat; 105 mg cholesterol;  35 g protein;  59 g carbohydrates; 2 g fiber;  590 mg sodium;  885 mg calcium. Nutrition figures include an 8-ounce glass of low-fat milk.