Looking for a more protein-packed oatmeal? This protein-packed oatmeal recipe serves up 25g of protein per serving in this bowl of hearty oatmeal when paired with an 8-ounce glass of milk.
Ingredients
1 3/4 cups – low-fat or fat-free milk
1 cup – old fashioned or quick cooking oats (not instant)
1 teaspoon – brown sugar
1/8 teaspoon – ground cinnamon
1/4 cup – strawberries, sliced
1/4 cup – dried cherries
3 tablespoons – sliced almonds (3/4 ounces), toasted
Pair each serving with:
1/2 – banana
8-ounce glass of milk
DIRECTIONS
Combine 1 3/4 cups milk, oatmeal, brown sugar, and cinnamon in a saucepan; bring to a boil over medium-high heat, stirring often to prevent boiling over.
Cook until thickened; divide between 2 serving bowls and top with strawberries, cherries, and almonds; serve immediately with 1/2 banana and an 8-ounce glass of milk.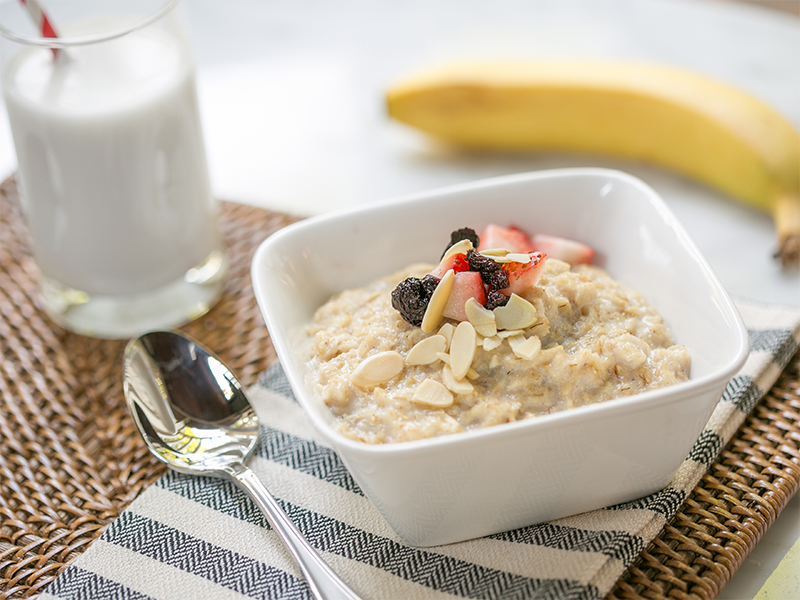 NUTRITION
500 calories; 8 g fat; 0 g saturated fat; 10 mg cholesterol; 25 g protein; 83 g carbohydrates; 8 g fiber; 0 mg sodium; 620 mg calcium. Nutrition figures based on using fat-free milk, and include an 8-ounce glass of milk. Per serving: Grain: 1 oz (1/2 cup cooked oatmeal); Fruit: 3/4 cup (strawberries, cherries, banana); Protein: 1/2 oz (almonds); Dairy: 1 7/8 cup (7 oz in oatmeal and 8 oz from the glass).