Step up to the breakfast plate and hit a home run for your kids with our delicious baseball pancakes recipe. Pitch a side of bacon for the bat and decorate the baseballs with maple syrup as stitching, and you'll create a fan favorite. Serve with an 8-ounce glass of milk, and you give your kids the milk they love, with protein they need, to help fuel up with protein in the morning.
Ingredients
1 cup – all-purpose flour
1 teaspoon – baking powder
1 teaspoon – sugar
1/4 teaspoon – salt
1 – large egg
1 cup – fat-free milk
1/4 teaspoon – vanilla extract
8 strips – low-sodium turkey bacon (optional)
2-3 tablespoons – raspberry or strawberry syrup (optional)
Pair each serving with:
8-ounce glass of milk
DIRECTIONS
Whisk together flour, baking powder, sugar, and salt. Mix egg, milk, and vanilla separately. Add wet ingredients to dry ingredients and whisk gently just until combined (it should still be a little lumpy, that's okay).
Preheat a griddle or skillet to medium heat and grease lightly with cooking spray.
Pour batter onto pan using a 1/3 cup measuring cup. Cook until bubbles form and edges start to look "dry", then flip and cook another 30-45 seconds.
Cook bacon on the griddle for 3-4 minutes on each side until desired crispiness is achieved.
Place cooked bacon beside pancakes for the "baseball bat." If desired, drizzle syrup onto pancakes to make baseball stitching.
Serve with an 8-ounce glass of milk.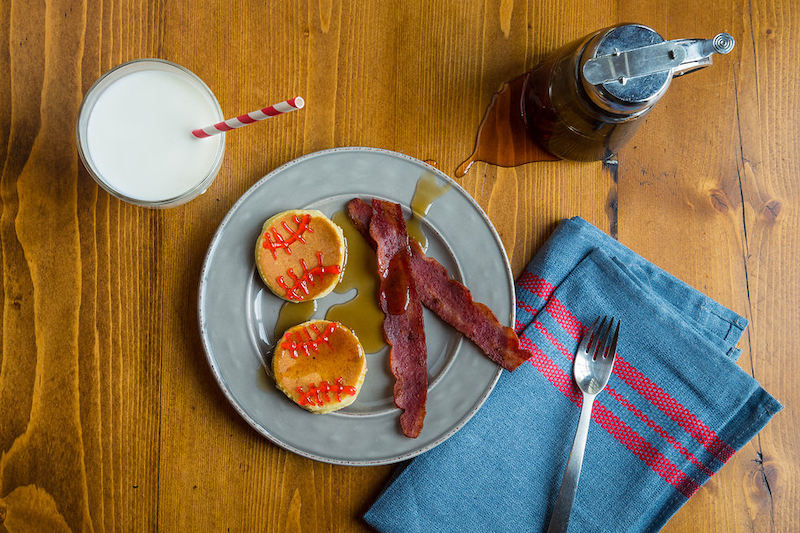 NUTRITION
240 calories; 1.5 g fat; 0 g saturated fat;  55 mg cholesterol; 15 g protein; 40 g carbohydrates; 1 g fiber; 420 mg sodium; 454 mg calcium. Nutrition figures based on using fat-free milk, and include an 8-ounce glass of milk.