Homemade Ginger Spice Cluster Granola
Breakfast
Why buy prepackaged granola when you can make your own at home? This simple recipe for ginger spice cluster granola pairs perfectly with milk to add a protein kick to your snack or breakfast. Try on its own, as a topping or mixed into trail mix—it's a versatile and tasty breakfast idea!
Ingredients
3 cups – old-fashioned rolled oats
1 cup – pecan pieces
1/4 cup – ground flaxseed
1/4 cup – brown sugar
2 1/2 teaspoons – ground ginger
1 1/4 teaspoons – ground cinnamon
1/2 teaspoon – salt
1/4 teaspoon – ground allspice
1/8 teaspoon – ground cloves
3 tablespoons – honey
2 tablespoons – coconut oil
2 – large egg whites, beaten
2 1/2 ounces – crystallized ginger, diced to 1/4" (about 1/2 cup)
Pair each serving with:
8-ounce glass of fat free milk
DIRECTIONS
Preheat oven to 300°F. In a large mixing bowl, combine oats, pecans, ground flaxseed, brown sugar, salt and spices and mix well. In a small bowl, heat honey and coconut oil for 15-20 seconds in microwave and gently whisk to emulsify.
Whisk the egg white in a separate small bowl until foamy. Stir egg white and honey mixture into the oat mixture until dry ingredients are evenly coated. Spread oats onto a baking sheet lined with parchment paper.
Bake for 40-45 minutes, carefully turning granola over with a large spatula after 20 minutes. When granola is evenly browned and dry to the touch, remove from the oven and cool completely on a cooling rack before breaking granola into clusters.
Mix in crystallized ginger and store in an airtight container. Serve with an 8-ounce glass of milk for a delicious and nutritious morning snack.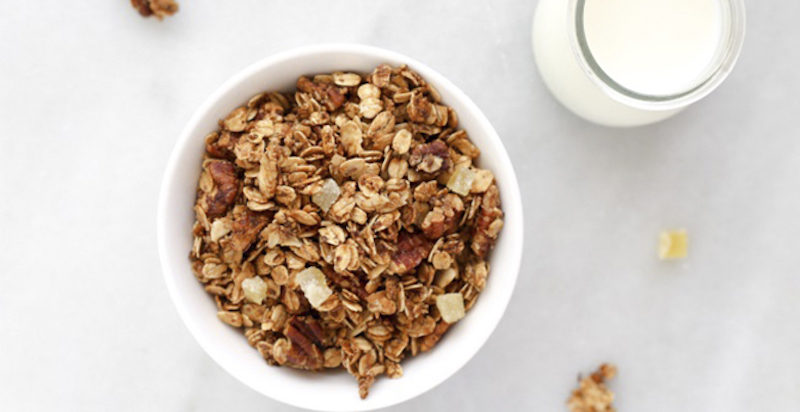 NUTRITION
190 calories; 6 g fat; 1.5 g saturated fat; 5 mg cholesterol; 10 g protein; 26 g carbohydrates; 2 g fiber; 160 mg sodium; 314 mg calcium. Nutrition figures include an 8-ounce glass of fat-free milk.