Cacao powder and a cup of milk, warming in a saucepan, start the countdown to quiet time with this moon milk recipe. Steep the lavender in the milk and strain it before a quick whirl in the blender for frothy goodness.
Ingredients
1 cup – real milk
1 tablespoon – food-grade lavender
1 tablespoon – premium cacao powder
1/2 tablespoon – local honey (or to taste)
1/2 teaspoon – vanilla extract
1/2 teaspoon – reishi* (optional)
DIRECTIONS
In a small saucepan, warm your milk and stir in cacao. Turn off heat and steep lavender for 3 minutes.
Strain with cheesecloth, adding milk and the remaining ingredients to your blender. Since the mixture will be warm, avoid filling the blender more than half way and be sure to vent the blender by keeping the middle part of the lid open and covering with a towel while holding the lid down by hand. This is for safety reasons, as otherwise heated liquid could force the lid off.
Blend on low until milk is frothy and ready to enjoy. Find a quiet place and sip. Goodnight moon!
Recipe & photo by CJ Neal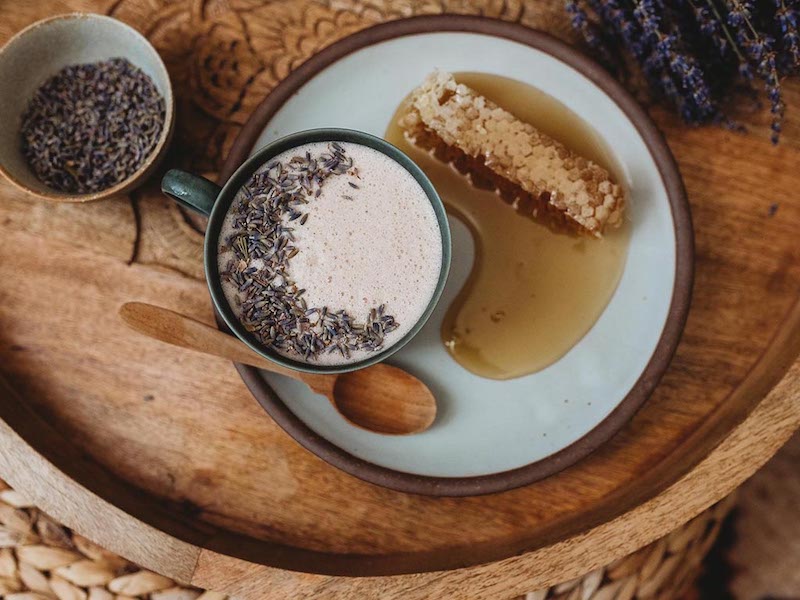 NUTRITION
150 calories; 3.5 g fat; 2.5 g saturated fat; 10 mg cholesterol; 9 g protein; 23 g carbohydrates; 2 g fiber; 110 mg sodium; 301 mg calcium. Nutrition figures based on using low-fat milk and do not include reishi.
*Reishi is a type of mushroom that can be purchased online or in specialty grocery stores/sections.