When it's cold outside and you want to warm up with a hot cup of soup, this clam chowder recipe with milk is a creamy, yet lighter version, of this traditional New England favorite.
Ingredients
8 slices – reduced-sodium bacon, chopped
1 – medium onion, chopped
4 stalks – celery, chopped
1 teaspoon – dried thyme
2 – bay leaves
1 1/4 pounds (about 4-5 small) – red potatoes, chopped small
1 15-ounce can – clam broth
4 cups – reduced-fat milk
1/2 cup – all-purpose flour
1 1/2 teaspoons – kosher salt
1 pound – fresh or frozen and defrosted clam strips, chopped, juices reserved
3 – scallions, thinly sliced
freshly ground pepper, to taste
oyster crackers (optional)
DIRECTIONS
Heat a large cast iron or non-stick pot over medium-high heat. Add bacon and cook until crisp, about 5-7 minutes. Using a slotted spoon, transfer half of the bacon to a paper towel-lined plate. Add onion, celery, thyme and bay leaf to the pan. Cook, stirring occasionally, until onions and celery begin to soften, about 3-4 minutes. Add potatoes and clam broth, bring to a simmer, cover and cook until the potatoes are just tender, about 10-12 minutes for larger chunks or 8-10 minutes for diced.
While the potatoes simmer, whisk the milk, flour and salt in a medium bowl. Add to the pot, cover and return to a simmer. Reduce heat to medium and cook until thickened, about 3 minutes. Stir well. Add clams and reserved juices and cook until the clams are just cooked, approximately 2-3 minutes more. Remove pot from heat and allow to cool 10 minutes.
Remove bay leaves before portioning into bowls and topping with remaining bacon, green onions, freshly ground pepper and oyster crackers, if desired.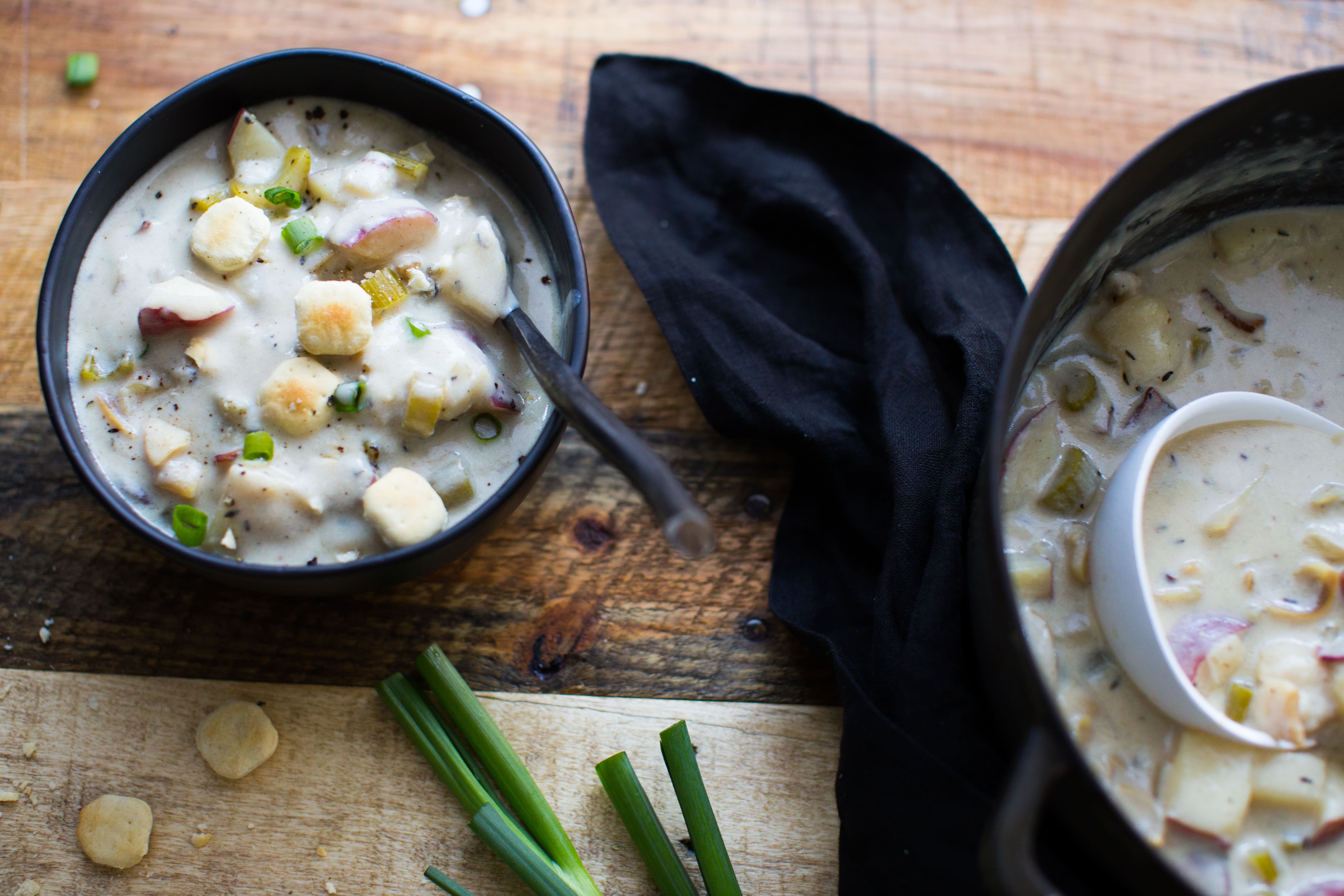 NUTRITION
170 calories; 5 g fat; 2 g saturated fat; 25 mg cholesterol; 11 g protein; 21 g carbohydrates; 2 g fiber; 820 mg sodium; 147 mg calcium. Nutrition figures based on using reduced-fat milk.