Sample flavors of the Mediterranean like roasted peppers, spinach and Kalamata olives, which combine with eggs for a delicious scramble that's anything but traditional. The pita, a slightly leavened flatbread, is perfect the perfect vessel for this simple yet filling breakfast sandwich.
Ingredients
2 – 6-inch whole wheat pitas
4 – large eggs
1/4 cup – milk
pinch – Italian seasoning
1 teaspoon – olive oil
1 cup – baby spinach
1/3 cup – red pepper, chopped
1/8 cup – Kalamata olives, chopped (from about 8 whole medium olives)
8 teaspoons – prepared pesto
Pair each serving with:
8 ounce glass of milk
DIRECTIONS
Whisk eggs, 1/4 cup milk and Italian seasoning together in a small bowl.
Heat olive oil in a non-stick skillet over medium heat. Toss in peppers and cook for about 3 minutes, until peppers soften. Add spinach and olives, and cook for another 2 minutes, until spinach is wilted. Add egg mixture and scramble together until eggs are cooked through and no liquid remains.
Cut each pita in half to create 4 pieces. Cover pita halves with a damp paper towel and steam in the microwave for 20 seconds. Fill each half with 2 teaspoons of pesto and then 1/4 of the vegetables scramble.
Pair each pita pocket sandwich with an 8-ounce glass of milk and serve. Enjoy!
Recipe and photo by Kath Younger of Kath Eats Real Food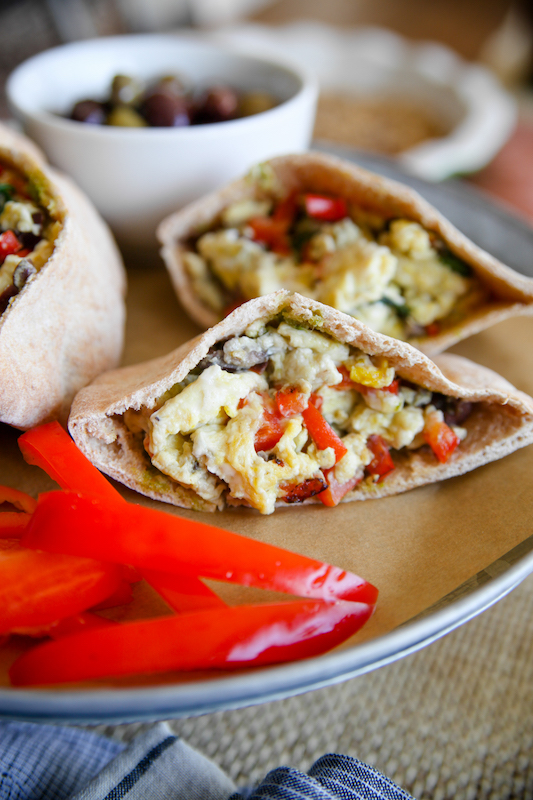 NUTRITION
330 calories; 14 g fat; 3 g saturated fat; 195 mg cholesterol; 19 g protein; 34 g carbohydrates; 4 g fiber; 560 mg sodium; 393 mg calcium. Nutrition figures based on using fat-free milk, and include an 8-ounce glass of milk.