Milk-Braised Pork Loin with Sour Orange and Plantains
Odds And Ends
Ingredients
Pork:
2 pounds – boneless pork loin with fat cap, rolled and tied
1 teaspoon – sea salt, or to taste
1 tablespoon – olive oil
2 – bay leaves
2 – sour oranges, zested and juiced
2 – onions, peeled and sliced
6 cloves – garlic, peeled and smashed
1 1/2 cups – whole milk
1 cup – heavy cream
4 ounces – white wine
Plantain Mash:
1 – onion, minced
1 tablespoon – garlic, minced
1/2 cup – whole milk
1 1/4 cups – heavy cream
4 – ripe plantains, roughly chopped
1 tablespoon – parsley or chive
1 teaspoon – salt
DIRECTIONS
Directions for the Pork:
Season the pork liberally with salt. Heat oil in a heavy-bottomed pot over medium-high heat. Add the pork loin, fat side down, and sear, turning as it browns, until browned on all sides.
Transfer to a plate. Drain the excess fat from the pan and remove any burnt bits.
To make the gravy, melt butter in pot over medium heat. Add the bay leaves, garlic, onion and sour orange zest and cook until fragrant, about 30 seconds. Deglaze the pan with the white wine.
Once reduced by half, return the pork, fat side up, to the pot, along with any accumulated juices. Pour milk and cream over pork, raise heat to medium-high, and bring to a simmer.
Partially cover pot, reduce heat, and simmer, undisturbed, until a thermometer inserted into thickest part of pork registers 140°F, about 1 hour.
Transfer pork to a serving dish and cover for 15 minutes allowing it to rest.
Increase heat to medium and simmer the gravy until reduced to 1 1/2 cups. Adjust the seasoning with salt, if desired, and sour orange juice. Discard the bay leaf and sour orange zest.
Cut pork crosswise into 1/2-inch-thick slices and serve with gravy over the mashed plantains.
Directions for the Plantain Mash:
Heat a pan over medium heat and add the onions and garlic. Cook until the onions have caramelized, about 10 to 12 minutes.
Stir in the milk and 1 cup of the heavy cream. Reduce the heat to medium-low and add the plantains. Simmer the mixture until the plantains are tender, about 7 minutes.
Add the remaining 1/4 cup of heavy cream and the salt. Mash together until well combined.
Transfer to a serving bowl and serve and garnish with fresh herbs.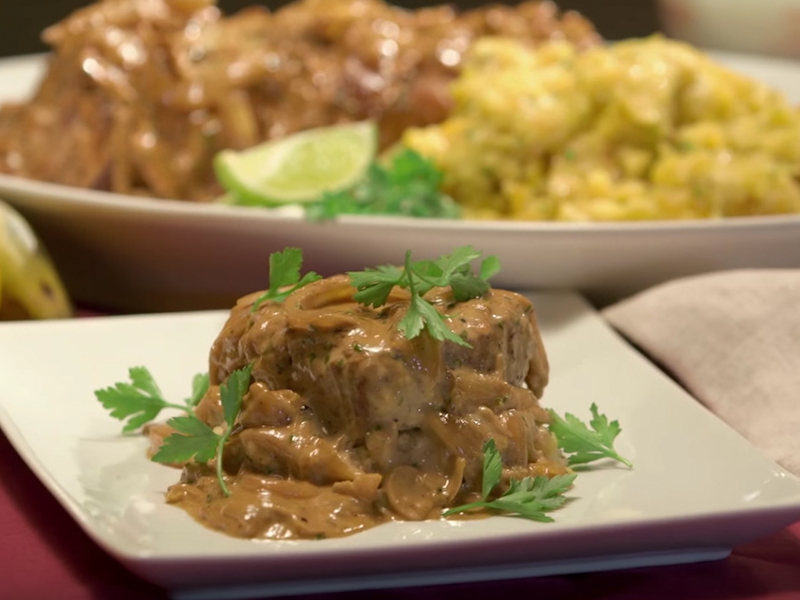 NUTRITION
510 calories; 30 g fat; 18 g saturated fat; 140 mg cholesterol; 19 g protein; 42 g carbohydrates; 3 g fiber; 670 mg sodium; 149 mg calcium.