When winter hits, try this savory take on a classic pot pie. It's a traditional dish, complete with a vegetarian twist on a British favorite that mixes mushrooms, fennel and Camembert in puff pastry.
Ingredients
1/4 cup – unsalted butter
1/4 cup – olive oil
2 tablespoons – fresh thyme leaves, roughly chopped
2 – medium shallots, diced
3 – medium cloves garlic, minced
1 1/2 pounds – mixed mushrooms, cleaned, stemmed & roughly chopped
1 – medium fennel bulb, chopped into 1" pieces
1/2 – teaspoon sea salt
1/2 – teaspoon freshly ground black pepper
1/4 cup – sherry
1 tablespoon – dijon mustard
1/2 cup – all-purpose flour
3/4 cup – whole milk
3/4 cup – mushroom or vegetable broth (low sodium ideally—if not, add the broth then salt to taste)
8 ounces – camembert or brie (brie will have a milder flavor), rind removed, cut into cubes
1 (14-ounce) sheet – frozen puff pastry or one recipe of homemade rough puff pastry
1 – whole egg, lightly whisked, for brushing
chunky salt for sprinkling the top of the pastry
thyme sprigs for garnish (optional)
DIRECTIONS
Heat oven to 400°F/200°C.
Heat butter and oil in a skillet over medium heat. Cook thyme, shallot, garlic, mushrooms, and fennel with the salt and pepper until the mushrooms just start to release their liquid, about 5-10 minutes. Add sherry, cook until almost all of it evaporates. Stir in the mustard. Add the flour, and stir until none is visible. Whisk in the milk and broth. Simmer until it starts to thicken, then whisk in the cheese until melted.
Pour the mushroom mixture into a 2-quart shallow oval baking dish or an 8″ square baking dish. Allow to cool to room temperature.
Meanwhile roll out the pastry to fit your dish. Once cool, top the dish with the pastry and trim to a 1″ overhang. Tuck the overhang in, crimping if desired. Cut a vent in the stop, brush with egg, and sprinkle lightly with chunky salt.
Bake on a sheet tray (to catch any sauce that bubbles over) 30 minutes or until puffed, deep golden brown, and pastry is completely cooked through. Garnish with thyme sprigs, if desired.
Note: You can make this ahead the day before. Simply top with the pastry and then cover. Do not brush with the egg wash until right before baking. It can also be made in about 8 individual 1-cup ramekins.
Recipe and photo by Beth Kirby of Local Milk.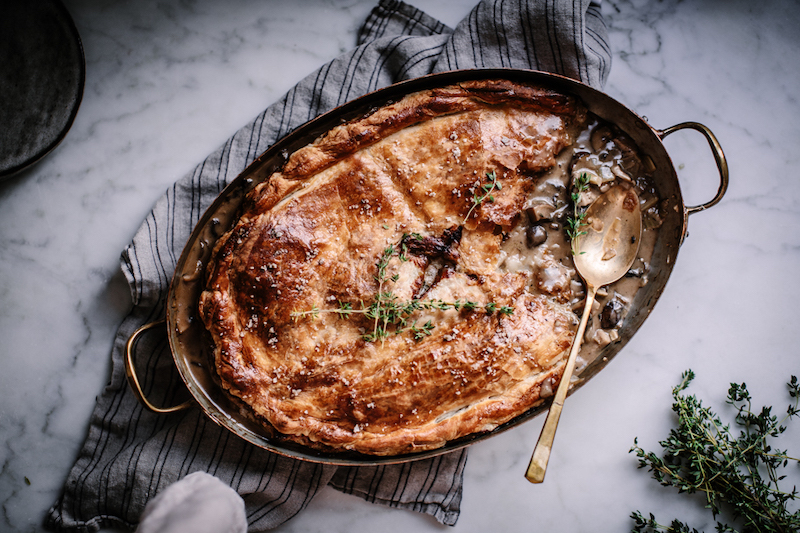 NUTRITION
570 calories; 40 g fat; 14 g saturated fat; 60 mg cholesterol; 14 g protein; 39 g carbohydrates; 3  g fiber; 720 mg sodium; 188 mg calcium.