Ingredients
Bolognese:
1 – large onion, coarsely chopped
1 – medium carrot, peeled, coarsely chopped
1 – celery stalk, coarsely chopped
2 tablespoons – olive oil
3/4 pound – ground beef chuck
3/4 pound – ground pork
3/4 pound – ground veal
kosher salt
freshly ground pepper
1 cup – dry white wine
1 cup – whole milk
1 (14.5-ounce) can – crushed tomatoes
2 tablespoons – tomato paste
1/2 teaspoon – nutmeg, ground
Béchamel:
5 tablespoons – unsalted butter
1/4 cup – all-purpose flour
4 cups – whole milk, warmed
1/2 teaspoon – nutmeg, ground
2 ounces – Parmigiano, grated
kosher salt
Pasta and Assembly:
2 pounds – extra wide egg noodles
1 gallon – water
1/4 cup – salt
Béchamel Sauce
Bolognese Sauce
4 ounces Parmigiano Reggiano, Grated
DIRECTIONS
For the Bolognese
Pulse onion, carrot, and celery in a food processor until finely chopped.
Heat olive oil in a large heavy pot over medium heat. Add ground beef, ground pork, veal, and vegetables; cook, breaking up ground meat with a spoon, until moisture is almost completely evaporated and meat is well browned, 25–30 minutes; season with salt and pepper.
Add wine to pot and bring to a boil, scraping up browned bits from bottom of pot, about 2 minutes. Add milk; bring to a boil, reduce heat, and simmer until moisture is almost completely evaporated, 8–10 minutes. Add the tomatoes and tomato paste and bring to a boil, reduce heat, and simmer, adding water a little water if the sauce looks dry, until the sauce thickens. Finish with salt and nutmeg.
For the Béchamel
Heat butter in a medium saucepan over medium heat until foaming. Add flour and cook, whisking constantly, 1 minute. Whisk in warm milk, 1/2-cupful at a time. Bring sauce to a boil, reduce heat, and simmer, whisking often, until the consistency of cream, 8–10 minutes; add nutmeg, Parmigiano and season with salt.
Remove from heat, transfer to a medium bowl, and press plastic wrap directly onto surface; let cool slightly.
For the Pasta and Assembly
In a large pot, bring the gallon of water to a boil. Once boiling, add the salt and cook the egg noodles according to the instructions on the package. While the pasta is cooking, combine all of the Bolognese with 3/4 of the béchamel sauce, reserving a quarter of it for the top.
Lightly coat a 13×9″ baking dish with olive oil. Once the pasta has cooked, combine the egg noodles with the two sauces and place in oiled baking dish. Spread evenly and top with the remaining béchamel sauce and grated cheese.
Preheat oven to 350°F. Place baking dish on a rimmed baking sheet and bake the pasta until bubbling and beginning to brown on top, 50–60 minutes. Let the pasta sit 15-20 minutes before serving.
Embrace the richness of cooking with milk with these more recipes from Chef Giorgio Rapicavoli at http://milklife.com/tradition.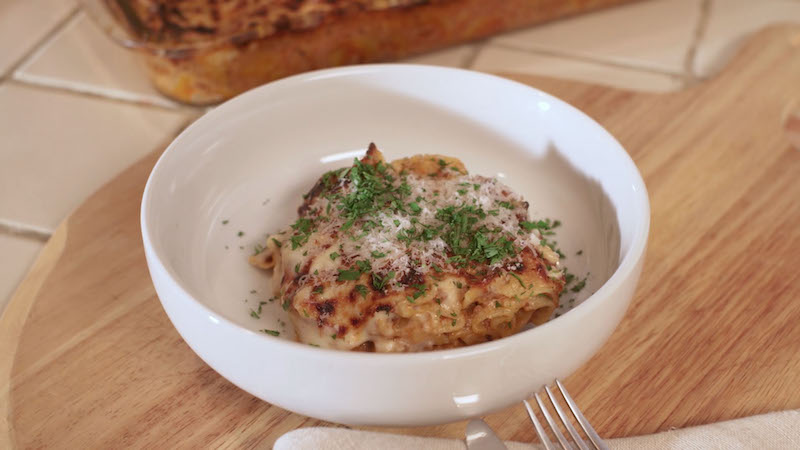 NUTRITION
730 calories; 38 g fat; 17 g saturated fat; 175 mg cholesterol; 44 g protein, 48 g carbohydrates; 3 g fiber; 780 mg sodium; 470 mg calcium. Nutrition figures based on using whole milk.