Make this fun-to-eat bowtie pasta in just one pot. Start by simmering the noodles in a seasoned milk broth, which thickens as the pasta cooks. Finish with peas, Parmesan cheese and garnish with fresh parsley.
Ingredients
3 tablespoons – unsalted butter
3 tablespoons – all-purpose flour
3 cloves – garlic, minced
3 1/2 cups – chicken broth
2 1/2 cups – milk, more as needed
16 ounces – uncooked bowtie pasta
2 cups – frozen peas, defrosted
2/3 cup – grated Parmesan cheese
fresh lemon slices for garnish
DIRECTIONS
Melt butter in a deep skillet (a large pot will also do) over medium-low heat. Add flour and stir constantly just until roux puffs slightly, about 1-2 minutes. Add garlic and stir constantly until fragrant, about 30 seconds.
Stir in chicken broth, milk, and pasta and increase heat to medium-high. Bring to a rapid simmer. Immediately reduce heat to low, cover and cook, stirring occasionally, until pasta is al dente, about 20-22 minutes.
Stir in peas and Parmesan cheese and cook for 2-3 minutes more until warmed through. If the sauce is too thick, add more milk as needed until desired consistency is reached.
Serve immediately, garnished with a squeeze of fresh lemon, if desired.
Recipe and photo by Elle Penner of According to Elle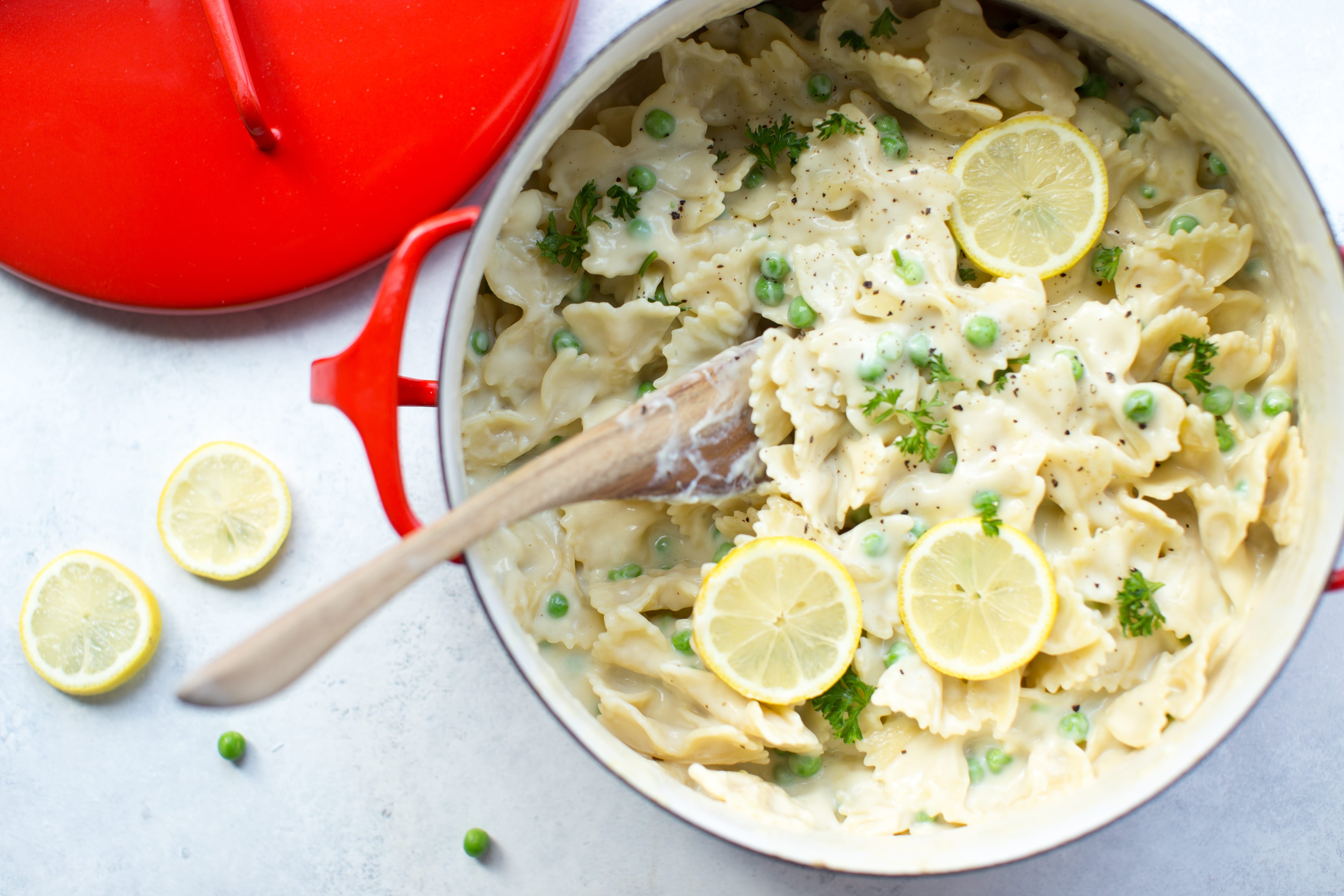 NUTRITION
350 calories; 8 g fat; 4 g saturated fat; 20 mg cholesterol; 15 g protein; 54 g carbohydrates; 4 g fiber; 550 mg sodium; 183 mg calcium. Nutrition figures based on using fat-free milk.