Ingredients
3 – bacon slices, chopped in small pieces
1 tablespoon – unsalted butter
1 tablespoon – olive oil
1/2 – yellow onion, diced
2 – carrots, diced
2 – celery stalks, diced
1 – cauliflower head, chopped
2 teaspoons – garlic
1/4 teaspoon – dried thyme
3 tablespoons – flour
1/2 cup – vegetable broth
3 cups – low-fat milk
1 – bay leaf
salt and pepper to taste
Optional Ingredients:
fresh parsley
grated Cheddar cheese
Pair each serving with:
8-ounce glass of real milk
DIRECTIONS
Chop bacon into little pieces and add them to a dutch oven to render out the fat. Once the bacon is cooked, use a slotted spoon to remove the pieces to a paper towel-lined plate. Drain the fat out of the pot but do not wipe clean.
Place the butter and olive oil in the pot and add onion, carrot and celery. Once they start cooking, after about 2 minutes, add the cauliflower, garlic and thyme and turn the heat down to medium-low. Cook for another 15 minutes, or until cauliflower is tender. Add the flour and a little more oil if the bottom of the pan is dry, and stir until all the veggies are coated.
Pour in the liquids (vegetable broth and milk) and add the salt, pepper and bay leaf. Simmer for 20-40 minutes over low heat.
Serve with bacon bits, cheese and parsley and enjoy with a glass of real milk!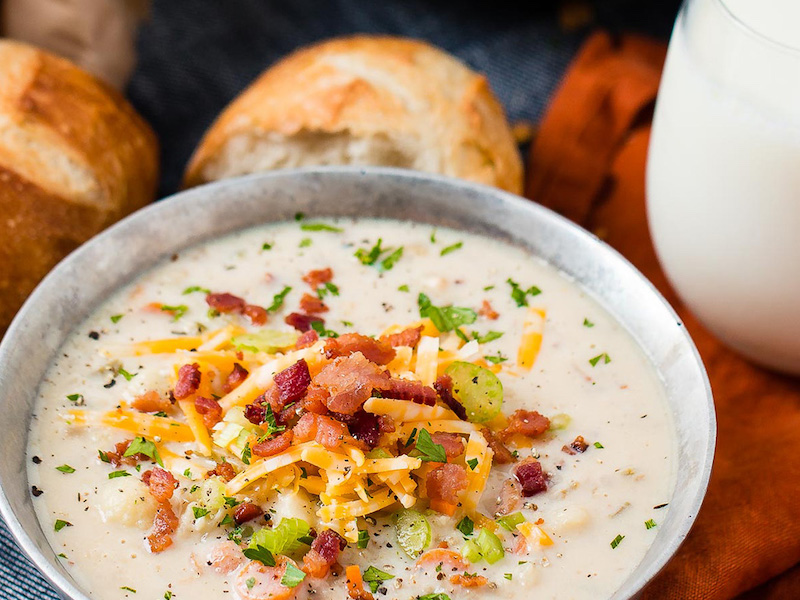 NUTRITION
400 calories; 19 g fat; 8 g saturated fat; 35 mg cholesterol; 21 g protein; 39 g carbohydrates; 5 g fiber;  530 mg sodium; 583 mg calcium. Nutrition figures include an 8-ounce glass of low-fat milk.